Stephen Costello and Ailyn Pérez
Stephen Costello and Ailyn Pérez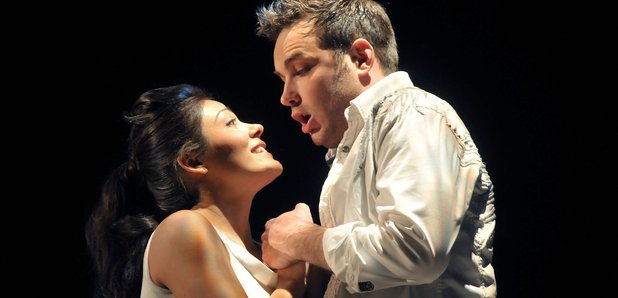 They have been called America's fastest-rising husband-and-wife opera stars. In Puccini's La Bohème and Verdi's La Traviata, the 'palpable chemistry' of Stephen Costello and Ailyn Pérez are conquering the hearts of opera lovers around the world.
Costello was born in Philadelphia in 1981 and played trumpet for 15 years. He discovered the joy of performing while in a student production of South Pacific.
Pérez was born in Chicago in 1979 to Mexican parents. She attended the Indiana University School of Music.
The couple met as students in Philadelphia when they were playing the roles of Rodolfo and Mimi in La Bohème. 'I didn't expect to find my soulmate on stage,' Pérez said.
'There's a connection of love that we have for each other and we know what it was like when we first saw each other and that connection helps when Mimi and Rodolfo meet,' Pérez has said.
With Pérez as Mimi, Costello played Rodolfo for his Los Angeles Opera debut; Vanity Fair magazine published a full-page photo, dubbing theirs 'a match made in verismo heaven.'
In 2009 Costello won the Richard Tucker Award, conferred annually on an American opera singer on the threshold of a major international career.
Pérez also won the Richard Tucker Award in 2012, the only Hispanic recipient in its 35-year history.
Their first album together released in 2014 features love duets by Puccini, Verdi and even Leonard Bernstein's West Side Story.
Did you know?
The couple bought their dog Tequila – a papillon Chihuahua – in 2006 in Mexico at the Mexican equivalent of Walmart.