Vienna Philharmonic
Biography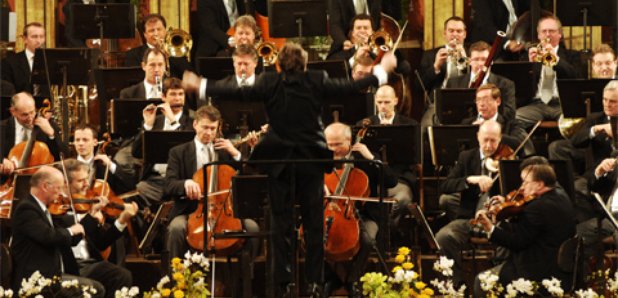 Steeped in history, the Vienna Philharmonic Orchestra can truly lay claim to being one of the great orchestras of the world.
Until the first Philharmonic concert on March 28, 1842, the city which gave its name to the Viennese classics had no professional concert orchestra. Concerts of symphonic works were played by ensembles specially assembled for the occasion, and orchestras composed entirely of professional musicians were found only in the theatres.
On May 24, 1824 the orchestra of the Gesellschaft der Musikfreunde (Society of the Friends of Music) and the court orchestra joined forces with the court opera orchestra for the premiere of Beethoven's Ninth Symphony.
Otto Nicolai (1810-1849) was appointed conductor at the Kärntertortheater in 1841. On March 28, 1842 he conducted a 'Grand Concert' in the Großer Redoutensaal which was presented by "all the orchestra members of the imperial 'Hof-Operntheater'". This 'Philharmonic Academy', as it was originally called, is rightly regarded as the origin of the orchestra.
The Philharmonic's close relationship to Richard Strauss, of course, is of great historical importance, and represents one of the many high points in the rich history of the orchestra.
Through its busy concert schedule, recordings on film and record, tours all over the world, and regular appearances at major international festivals, the Vienna Philharmonic meets all the requirements of the modern multimedia music business while still managing to emphasise its unique individuality, perhaps best exemplified in the annual New Year's Concert, and in the pivotal role it plays each summer at the Salzburg Festival.
Did you know?
The Vienna Philharmonic is not only Austria's most highly coveted "cultural export", it is also an ambassador of peace. In 2005 the Vienna Philharmonic was named Goodwill Ambassador of the World Health Organisation (WHO).
Classical music in Vienna: a spellbinding musical tour
Take our stunning photographic tour of the City of Music
John Williams - The Imperial March
The Vienna Philharmonic has launched a fundraising campaign to buy and renovated an old inn for refugee families
As the spotlight turns on the Vienna Philharmonic as part of our Great Composer of the World series, we catch up with Vice-President Alexander Steinberger to find out what makes the orchestra tick.
Zubin Mehta conducts the Vienna Philharmonic in the music of the Strauss family
Find out more about Wagner's Lohengrin. Watch and listen to different recordings and download your favourite.