Sir Charles Mackerras
Biography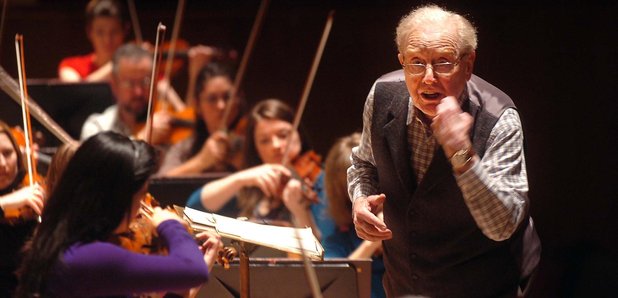 Sir Charles Mackerras was a U.S. born conductor, who was raised in Australia and settled in the UK, renowned for his authority on the operas of Janáček and Mozart.
Life and Music
Sir Charles started his career with the Sydney Symphony Orchestra, initially as an oboist during World War II, before becoming its principal oboe in 1946. Five years later, he became the first Australian national to be appointed chief conductor of the Sydney Symphony.
He made his debut with the Royal Opera House, Covent Garden in 1964, where he has since conducted 33 operas, including Un Ballo in Maschera which celebrated his 50th anniversary and 80th birthday in 2005.
A specialist in Czech repertory, Sir Charles was Principal Guest Conductor of the Czech Philharmonic Orchestra from 1997 - 2003, recording much Czech music including Dvořák's Slavonic Dances, Smetana's Ma Vlast, Martinů's Field Mass and Double Concerto and Janáček's Katya Kabanova, Sarka and the Glagolitic Mass.
Sir Charles worked as a conductor right up to his death - directing a production of Mozart's Cosi fan Tutti at Glyndebourne just weeks before he died after a long battle with cancer at the age of 84 on 14 July 2010.
He was also the Conductor Laureate of the Scottish Chamber Orchestra, Principal Guest Conductor of the Philharmonia Orchestra, Conductor Emeritus of the Welsh National Opera and Principal Guest Conductor Emeritus of the San Francisco Opera.
Sir Charles received a CBE in 1974 and was knighted in 1979. He was honoured with the Medal of Merit from the Czech Republic in 1996, made a Companion of the Order of Australia in 1997 and made a Companion of Honour in the 2003 Queen's Birthday Honours.
Did you know?
Mackerras was a noted authority on the work of Janáček and Mozart, and recorded all Mozart's Symphonies and Serenades with the Prague Chamber Orchestra. With the Scottish Chamber Orchestra he recorded seven Mozart operas, most recently La Clemenza di Tito following a performance at the 2005 Edinburgh International Festival.
The award will acknowledge exceptional emerging conducting talent, and celebrate the great legacy of Sir Charles Mackerras
It's almost a year since Sir Charles Mackerras died, and ENO are paying tribute to him in a special concert this weekend.
Find out more about Beethoven's Symphony No.7 in A. Watch and listen to different recordings and download your favourite.
Find out more about Mahler's Symphony No.4 in G. Watch and listen to different recordings and download your favourite.
Sir Charles Mackerras turns his talents to Mozart and Dvořák and produces one of the best Mozart symphony recordings ever
Top Charles Mackerras Pieces
Nocturne (from a Midsummer Night's Dream) Opus 61