Simon Rattle
Biography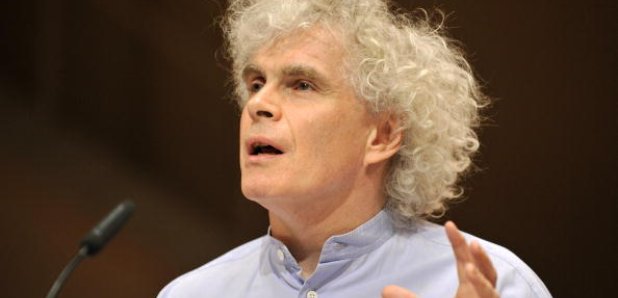 Sir Simon is currently principal director of the Berlin Philharmonic, but will leave to become music director of the London Symphony Orchestra in September 2017. He has established himself as a conductor of world-class expertise in an unusually wide and open-minded repertory, from Haydn to contemporary composers.
Life and Music
Rattle's path towards becoming a musical maestro began when he won the John Player International Conducting Competition at the age of 19.
His early rise included performances at Glyndebourne of Janácek's opera The Cunning Little Vixen, which is remembered with admiration.
In 1980, he began what was to become a legendary 18-year relationship with the City of Birmingham Symphony Orchestra, first as principal conductor, then as its music director.
In 2007, the BPO/Rattle recording received the Classic FM Gramophone best choral disc award for Brahms's Ein Deutsches Requiem. UNICEF appointed the BPO and Rattle as Goodwill Ambassadors in November 2007.
His Birmingham concert programmes were delivered with incisive panache that also allowed the CBSO members plenty of room to express themselves. Richard Strauss's symphonic poems rubbed shoulders with neglected musicals by Leonard Bernstein; Mozart and Mahler co-existed happily together; Stravinsky and Ravel lined up alongside John Adams and Gyorgy Ligeti.
This boundary-crossing approach had increasingly impressed the self-governing Berlin Philharmonic, who were aware of the need to attract new and younger audiences to their concerts. Rattle had guest-conducted the orchestra for several years, winning much respect with his engaging, anti-maestro style and bombproof technical expertise, and, up against Barenboim, he got the job.
Since then, musical life has been buzzing in and around Berlin's handsome Philharmonie concert hall, just as it did in Birmingham.
Did you know?
Sir Simon led two attempts at gaining the record for the World's Largest Orchestra, both designed to raise awareness of youth music in schools. The first, in 1996, was unsuccessful. The second, in 1998, did succeed and the record held at nearly 4,000 musicians until it was broken in 2000 by a group in Vancouver.
Rachmaninov Piano Concerto No. 3
It's exciting times.
What's on Lang Lang's new album? Get to know these two incredible piano concertos with our handy guide to the music
London's proposed new concert hall could be built on Museum of London site and cost £278m
John Suchet travelled to Berlin in October 2012 for a special interview with Chief Conductor and Artistic Director of the Berlin Philharmonic, Sir Simon Rattle.
Album of the Week, 2 June 2014
Find out more about Tchaikovsky's Nutcracker. Watch and listen to different recordings and download your favourite.