Philharmonia Orchestra
Biography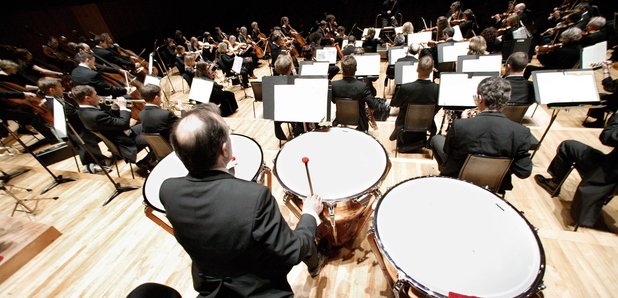 One of the world's great orchestras, the Philharmonia Orchestra has been Classic FM's Orchestra on Tour since 2003, bringing classical music to venues around the country.
With Residencies in Bedford, Leicester, Basingstoke and Canterbury, and relationships with major concert halls throughout the UK, the Philharmonia and Classic FM's partnership takes the best of the Orchestra's London and international concerts programme to audiences around the UK.
Together with its relationships with the world's most sought-after artists, most importantly its Principal Conductor and Artistic Advisor Esa-Pekka Salonen, the Philharmonia Orchestra is at the heart of British musical life. Other titled conductors are Christoph von Dohnányi and Vladimir Ashkenazy, and the Orchestra also works annually with a starry roster of international artists including Lorin Maazel, Andris Nelsons and Daniele Gatti.
Today, the Philharmonia Orchestra has the greatest claim of any orchestra to be the UK's National Orchestra. It is committed to presenting the same quality, live music-making in venues throughout the country as it brings to London and the great concert halls of the world.
The Philharmonia also records scores for films and computer games; it has won two BAFTAs for its recordings of scores for all the Harry Potter computer games.
Did you know?
It's not just about making music in the concert hall: the Philharmonia uses digital technologies to bring new audiences to classical music. An installation based on Holst's The Planets, was at London's Science Museum over three months from May-August 2012.
Details of Southbank Centre's 2016-17 season are out.
Apple's latest slick iPad ad shows Philharmonia conductor Esa-Pekka Salonen composing an orchestral work on his tablet. Have a listen...
Find out more about Paganini's Violin Concerto No. 1 in D major. Watch and listen to different recordings and download your favourite.
Find out more about Shostakovich's Jazz Suites. Watch and listen to different recordings and download your favourite.
One of the world's great orchestras is celebrating an important birthday - here's why they're absolutely wonderful.
It's orchestra vs. orchestra in this most musical of football tournaments
A great cast in exuberant form led by British tenor Toby Spence deliver a magical performance of Offenbach's comedy opera
Christoph von Dohnányi leads the Philharmonia to the musical core of two of Strauss's masterpieces
Top Philharmonia Pieces
Camille Saint-Saens (1835-1921 : France)

Conductor: Charles Dutoit
Ensemble: Philharmonia Orchestra
Record Label: Classic FM
Catalog: CFM FW 036

The Planets Opus 32 (Jupiter)

Wolfgang Amadeus Mozart (1756-1791 : Austria)

Ensemble: Philharmonia Orchestra
Soloists: Vladimir Ashkenazy
Record Label: Decca
Catalog: 4529582