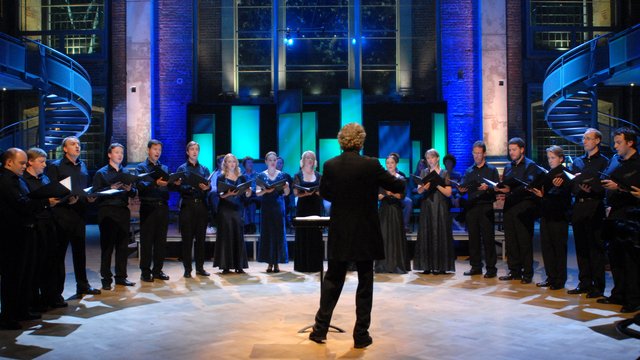 Introduction
Life and Music

At the heart of the partnership is a shared desire to build new audiences for classical music and choral music in particular. Under the inspirational leadership of Harry Christophers, The Sixteen has developed from its roots as a group of Oxford graduates passionate about the choral tradition to one of the world's most brilliantly honed chamber choirs.

Comprising both choir and period-instrument orchestra, The Sixteen's total commitment to the music it performs is its greatest distinction. Its special reputation for performing early English polyphony, masterpieces of the Renaissance, bringing fresh insights into Baroque and early Classical music and a diversity of 20th-century music, is drawn from the passions of conductor and founder, Harry Christophers.

The programme for the Choral Pilgrimage 2012 explored the remarkable sacred music emanating from Flanders in the 15th and 16th centuries, which was particularly embodied in the work of Josquin Desprez, Antoine Brumel and Orlando de Lassus. All three composers left their homeland to travel all over Europe, taking their distinctive music with them and leaving influence and legacy in their wake.

The Choral Pilgrimage began as a millennium project, and it stands as testament to Harry Christophers' ongoing mission to bring a wide variety of sacred music back to the kind of buildings for which it was written. Thanks to the enthusiasm and support from audiences, the project continues to thrive. In 2012 The Pilgrimage sees The Sixteen visit 26 churches and cathedrals around the UK.

Did you know?

This group have launched an exciting training programme for young singers called Genesis Sixteen. Aimed at 18 to 23 year-olds, this is the UK's first fully-funded choral programme for young singers designed specifically to bridge the gap from student to professional practitioner.
View more
Discover The Sixteen
Best The Sixteen recordings
Miserere Gregorio Allegri (1582-1652 : Italy)

Conductor: Harry Christophers

Ensemble: The Sixteen

Record label: Classic FM

Catalogue ID: CFMD 34
Most shared The Sixteen features