Time For Three
Biography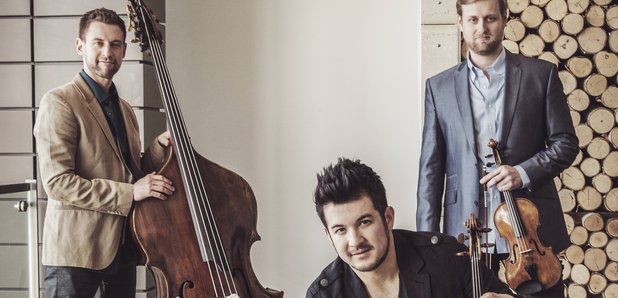 American string trio Time For Three have carved their own niche in classical music, tackling genres as diverse as bluegrass, hip-hop and, of course, their impeccably performed brand of classical music.
Time For Three (sometimes abbreviated to Tf3) are violinists Zach de Pue and Nick Kendall, along with Ranaan Meyer on double bass.
They were founded in 2003, while all three of them were studying at the Curtis Institute of Music in Philadelphia.
Time For Three have been known to refer to themselves as a 'classically trained garage band'.
After releasing two self-produced albums (2004's Time For Three and 2006's We Just Burned This For You!), they released 3 Fervent Travellers in 2010 on E1 Music.
The trio are also known for their viral videos. In 2014, footage of the group's violinists playing Bach on an airport runway to protest about their instruments not being allowed on the flight.
Their fourth album, also titled Time For Three, arrived in 2014 and showed them at their most diverse, collaborating with cellist Alisa Weilerstein, singer-songwriter Joshua Radin and jazz saxophonist Brandon Marsalis.
Time For Three are also artists in residence with the Indianapolis Symphony Orchestra, and have collaborated with Pulitzer-winning compose Jennifer Higdon.
Two violinists have shared their frustration on YouTube after their instruments were not allowed on a US flight
Video: Time For Three - Banjo Love