Claire Jones
Biography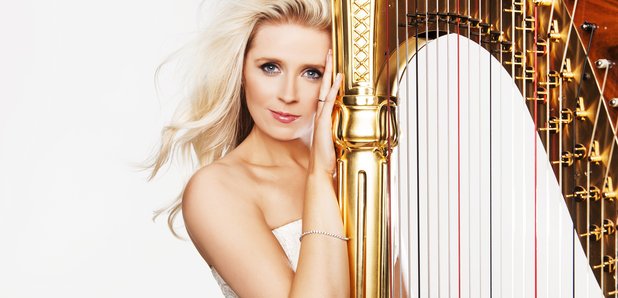 Claire Jones is a Welsh harpist. From 2007-2011 she was the Official Harpist to HRH The Prince of Wales. She has since become a successful recording artist, with her own album, The Girl with the Golden Harp, reaching number three in the charts in 2012. On this and her latest album, Journey, most of the tracks have been arranged for harp by Claire's husband, percussionist and composer Chris Marshall.
Life and Music
Born in Pembrokeshire, Wales, in 1985, Claire began her musical education at the age of seven before continuing to study the harp at the Royal College of Music and the Royal Academy of Music.
From 2007-11, Claire was Official Harpist to HRH The Prince of Wales and regularly performed for the Royal Family and distinguished guests at the Royal Palaces.
Claire made her concerto debut with the Philharmonia in 2008, and has gone on to perform with many of the world's leading orchestras including the English Chamber, European Union Chamber, City of Hong Kong Chamber, Zurich Chamber and Maestro Gergiev with the Mariinsky Theatre Ballet.
In 2010, Claire performed the private premiere of the 'Highgrove Suite', a work written by Patrick Hawes in celebration of Prince Charles' Foundation for Children and the Arts. The album was released by Classic FM to great acclaim, with the recital featuring in a major BBC2 documentary on Highgrove House.
In April 2011 she performed for the newly married Duke and Duchess of Cambridge at their wedding reception in Buckingham Palace.
Did you know?
Claire has collaborated with a great number of major artists, including Bryn Terfel, Alfie Boe and William Bennett, and balances professional commitments with school workshops to promote the harp and inspire the next generation of young harpists.
She is an ambassador for The Prince of Wales's Children and the Arts Foundation and is the face of international jewellery company, Clogau Gold.
Claire Jones - Behind The Scenes
Harpist Claire Jones takes us through the very worst things about being a harpist. Treasure your fingers, everyone.
Performing music composed by her husband as a gift, Claire Jones revealed the inspiration behind this most romantic of pieces
Classic FM Drive Featured Album, 9 March 2015.
Take a moment to relax with the angelic strains of Claire Jones' beautiful new album, on John Suchet's show every morning this week
Top Claire Jones Pieces
Danses pour harp chromatique - danse profane

Concerto for flute, harp and orchestra (1)