Opera North was originally known as English National Opera North. Its first performance was of Saint-Saëns's Samson and Delilah and the orchestra was conducted by founding Music Director, David Lloyd-Jones.

11 operas were performed during the inaugural 1978 – 1979 season.

The company changed its name to Opera North in 1981.

Opera North collaborates with artists and companies working in a variety of media, including film and visual art.

Its versatile Chorus and Orchestra also perform independently, constantly revitalising their approaches to music-making.

Education is a vital part of the work of the Company and Opera North Education is one of the leading arts education departments in the country. The team delivers a range of workshops and creative projects, encouraging young people and communities to explore the art form of opera.

Opera North has embarked on a number of successful collaborations with other opera companies including Glimmerhouse Opera for Cosi Fan Tutti, the Minnesota Opera for Rienhard Keiser's Croesus and Jonathan Dove's The Adventures of Pinocchio with Chemnitz Opera.

Did You Know?

Opera North has given a number of world premieres of various operas including Rebecca by Wilfred Joseph, Michael Berkeley's Baa, Baa, Black Sheep and Skin Deep by David Sawer and Armando Ianucci. It also premiered Rufus Wainwright's opera, Prima Donna, at the Manchester International Festival in 2009.
View more
Discover Opera North
Best Opera North recordings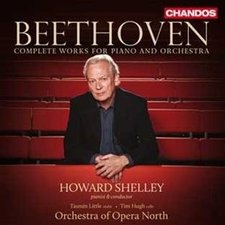 Piano Concerto No.2 in Bb major Opus 19 (1)
Ludwig Van Beethoven
Ensemble: Orchestra of Opera North
Soloists: Howard Shelley
Record label: Chandos
Catalogue ID: CHAN 10695(4)
Piano Concerto in A minor Opus 54 (1)
Robert Schumann (1810-1856 : Germany)
Ensemble: Orchestra of Opera North
Soloists: Howard Shelley
Record label: Chandos
Catalogue ID: CHAN 10509
Troilus and Cressida, Act II Scene 1: At the Haunted End of the Day (Cressida)
William Walton