Jose Serebrier
Biography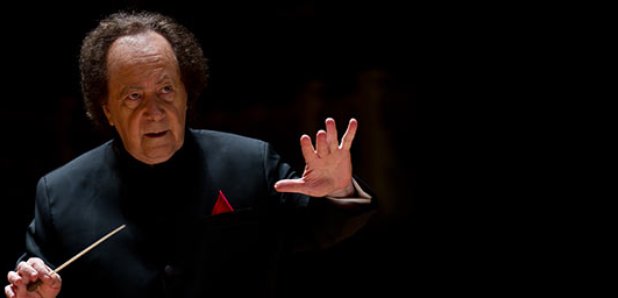 One of the most recorded conductors of his generation, the acclaimed composer/conductor is in demand with orchestras around the world,
Born in Montevideo, Uruguay, to Russian and Polish parents, José Serebrier first conducted an orchestra at the age of 11.
The young conductor notched up more than 100 performances with his school orchestra over four years.
When he was 15, Serebrier's composition Legend of Faust won a national competition. To his huge disappointment he was not allowed to conduct it, because he was too young. The première was given to Eleazar de Carvalho, who later that same year became his conducting teacher.
Serebrier studied with Aaron Copland at Tanglewood, and with Pierre Monteux.
His first symphony, written at the age of 17, was premiered by Leopold Stokowski as the last minute substitute for Charles Ives's Fourth Symphony, which was considered unplayable. Serebrier later made his acclaimed recording debut with the work.
Serebrier made his New York conducting debut with the American Symphony Orchestra at Carnegie Hall in 1965.
He was principal guest conductor of the Adelaide Symphony Orchestra during the 1982–83 season. He was offered the post of Chief Conductor, but he refuses to accept such positions.
He married American soprano Carole Farley in 1969. They have made a number of recordings together.
One of Serebrier's most unusual compositions is Passacaglia and Perpetuum Mobile for accordion and chamber orchestra.
His first international tour was with the Juilliard Orchestra to 17 countries in Latin America. He has toured with the Pittsburgh Symphony, Royal Philharmonic, Philharmonia, Scottish Chamber Orchestra, and numerous others.
Serebrier has received 37 nominations for Grammy Awards and won 8 Grammies. He won the Latin Grammy Awards of 2004 Best Classical Album for his own Carmen Symphony.
The Uruguayan conductor popped by Classic FM and had these words of wisdom to share with us
Classic FM Drive Featured Album, 15 June 2015
Archive footage of Serebrier