The Recycled Orchestra
Biography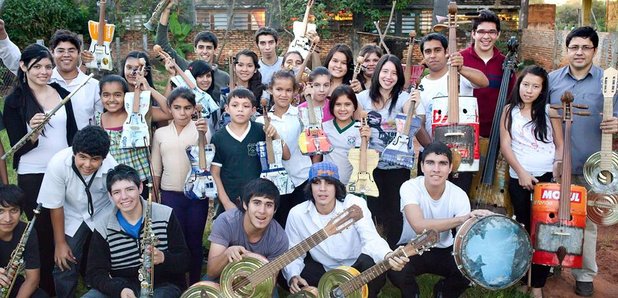 Stars of a new documentary, Landfill Harmonic, these children from Paraguay perform on recycled instruments salvaged from the rubbish heap.
Founded in 2006 by local music teacher Favio Chavez, the Recycled Orchestra helps young people who live in Cateura, Paraguay - a town founded on a landfill site.
In an attempt to help the children in the area, Favio set up an orchestra. Unfortunately, a shortage of instruments meant there were soon more children than violins, and the kids couldn't practise at home.
He was soon given a violin made from rubbish in the area, and began creating his own instruments with the help of workers on the landfill site.
After news of the orchestra spread worldwide, musicians from across the globe began to send their unwanted instruments to help the orchestra progress.
They're now planning a world tour, funded by a Kickstarter campaign.
Landfill Harmonic, a new documentary film set to be released in 2014, shows the incredible story of the children in the town, and reveals how their lives have been transformed by music.
Did you know? Actress Emma Watson is one of the many influential figures to offer their support to the orchestra. She tweeted news of the documentary to help spread the word.
The Recycled Orchestra: making music on a landfill site
Transforming other people's rubbish and creating beautiful music in the slums of Paraguay - introducing the Recycled Orchestra
Landfill Harmonic - Video