Il Divo
Il Divo Biography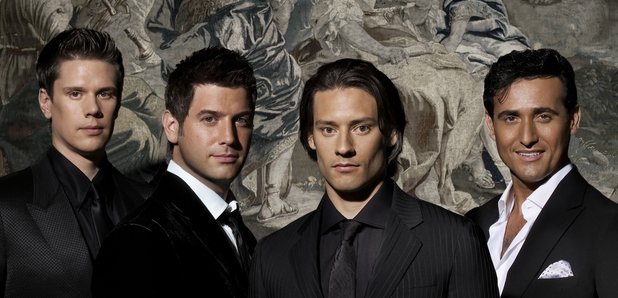 The collective talent of David Miller, Carlos Marin, Sébastien Izambard and Urs Bühler, four internationally renowned young singers from Europe and the US, Il Divo are the world's first 'opera boy band'.
Life and Music
The result of a two-year worldwide search by impresario Simon Cowell, Il Divo were formed with the intention of applying 'operatic technique and virtuosity to the interpretation of romantic songs'.
Il Divo have taken opera into the mainstream on a global scale and wowed a generation of fans with heart-stopping vocal performances.
The band captivated audiences the world over with their debut single in 2004, a classical arrangement of Toni Braxton's number one hit, 'Unbreak My Heart'.
Their self-titled debut album from 2004 sold over five million copies, hitting the number one slot in thirteen countries and a top five placing in twenty-five.
Their second album Ancora, from 2005, featured modern classics such as Mariah Carey's 'Hero' and The Righteous Brother's 'Unchained Melody'.
The four-piece completed a hugely successful North American tour with Barbra Streisand in 2006.
In 2011 the band were named Artists of the Decade at the Classic BRIT Awards, where they also performed.
Il Divo are no strangers to UK TV screens, having regularly appeared on The X Factor.
After six huge-selling albums, Il Divo announced their first Greatest Hits collection in 2012. It featured new versions of songs like 'My Heart Will Go On' and 'I Will Always Love You'.
Did you know?
Il Divo have been described by Simon Cowell as being "for people who are too intimidated by opera to go to ENO, but who love the romance of the music".
Il Divo - 20 facts you never knew
How much do you know about Il Divo? Discover 20 fascinating facts you never knew about the four operatic singers
Urs, Carlos and David popped into the office to talk about their fans, their inspirations – and Taylor Swift…
The guys joined us in the studio earlier this month and recorded personal video messages for some of their fans. Did the guys film one for you?
See the pictures from Katherine Jenkins and Il Divo's UK tour from April 2013, as they perform live at London's O2 arena
How much do you know about Il Divo? Discover 20 fascinating facts you never knew about the four operatic singers
Top Il Divo Pieces
Don't Cry For Me Argentina

West Side Story - Somewhere