Julia Fischer
Biography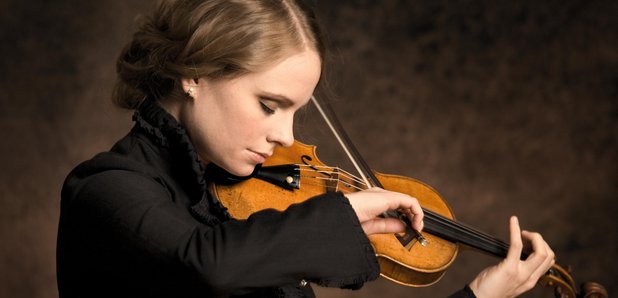 Julia Fischer is hailed as one of the truly great violinists of the 21st century.
Life and Music
Born in Munich in 1983, to a pianist mother from Slovakia and a mathematician father from Eastern Germany, Julia began learning the piano with her mother when she was three, but was soon persuaded to take up the violin instead because, as she explains, "since my elder brother also played the piano, my mother thought it would be nice to have another instrument in the family — so I agreed to try it out".
She began to have violin lessons at the Leopold Mozart Conservatoire in Augsburg.
At the age of eleven, Julia Fischer not only carried off the top prize at the 1995 International Yehudi Menuhin Competition (overseen by Lord Menuhin himself) but was awarded a special prize for 'Best Bach Solo Work'. She went on to win the Eighth Eurovision Competition for Young Musicians the following year.
Her 2006 BBC Music Magazine 'Best Newcomer' Award was also given in response to her Bach playing — specifically her complete recording of the solo Sonatas & Partitas.
Julia Fischer has worked with such major conductors as Christoph Eschenbach, Yuri Temirkanov, Sir Neville Marriner, David Zinman, Marek Janowski and Michael Tilson Thomas, and with a variety of leading European, American, Russian and Japanese orchestras.
2008 saw Julia Fischer make her debuts with the Cleveland Orchestra at the Blossom Music Festival, at Tanglewood with Bernard Haitink and at the BBC Proms with Yakov Kreizberg.
Julia Fischer was "Artist in Residence" in Zurich (with the Tonhalle) in 2009/10 and in both Baden-Baden and Monte Carlo in 2010/11. During 2009/10, she will also tour her Bach solo Sonatas & Partitas programme in Europe and the USA.
Did you know?
Until recently she taught at the Academy for Music and the Performing Arts in Frankfurt am Main, and was Germany's youngest Professor of Violin.
Mendelssohn Violin Concerto in E Minor
What's it like being an internationally renowned soloist? We spoke to violinist Julia Fischer to find out.
1000 Aberdeen residents will be able to enjoy the concert on Thursday 27 May for free.
At the end of January the new album from violinist, Julia Fischer as his CD of the Week.
The violinist dazzles in these interpretations of two Romantic showpiece concertos. Drive Featured Album, 4 March
Against stiff competition in a crowded Bach field, violinist Julia Fischer tackles the composer's momentous Sonatas and Partitas for Solo Violin