Chicago Symphony Orchestra
Biography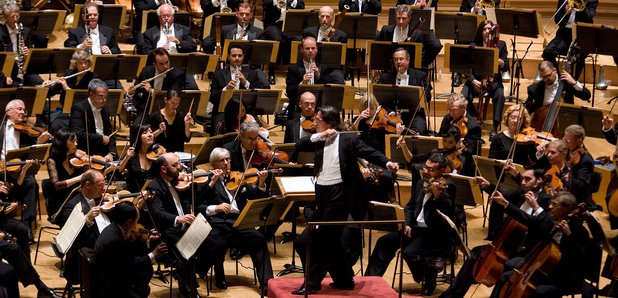 The Chicago Symphony Orchestra is consistently hailed as one of today's leading orchestras.
Throughout its history, the Chicago Symphony Orchestra has enjoyed leadership from an illustrious list of music directors, beginning with Theodore Thomas, who founded the Orchestra in 1891, followed by Frederick Stock, Désiré Defauw, Artur Rodzinski, Rafael Kubelík, Fritz Reiner, Jean Martinon, Sir George Solti, and Daniel Barenboim. From 2006 to 2010, Bernard Haitink led the Orchestra as principal conductor, the first in CSO history. Pierre Boulez, who was appointed principal guest conductor in 1995, served as Helen Regenstein Conductor Emeritus from 2006.
The CSO performs well over 150 concerts each year at Symphony Center and at the Ravinia Festival, where it is in residence each summer. The ensemble has embarked on 36 overseas tours since Sir Georg Solti led the first European tour in 1971.
Mason Bates and Anna Clyne are the CSO's Mead Composers-in-Residence, having taken up their posts in the 2010-2011 season. They curate the MusicNOW series along with principal conductor Cliff Colnot and work with Maestro Muti to reach across traditional barriers and into the Chicago community.
The Institute for Learning, Access, and Training at the CSO, launched in October 2008, engages more than 200,000 Chicago-area residents annually. Under the auspices of the Institute, Yo-Yo Ma, who became the first Judson and Joyce Green Creative Consultant in January 2010, serves as an invaluable partner to Maestro Muti, CSO staff, and musicians by participating in the development of new initiatives and music series.
Did you know?
Recording has been a significant part of the CSO's history since 1916, and in 2007 the Orchestra launched its own record label, CSO Resound. Their recordings have earned 62 Grammy awards.
Tchaikovsky Symphony No. 4, 4th Movement
Top Chicago Symphony Orchestra Pieces
Symphony No. 3 in C minor Opus 78 'Organ' (1)

Symphony No. 5 in C# minor (4)

Variations on a theme by Haydn (Andante)