Band of Her Majesty's Royal Marines
Biography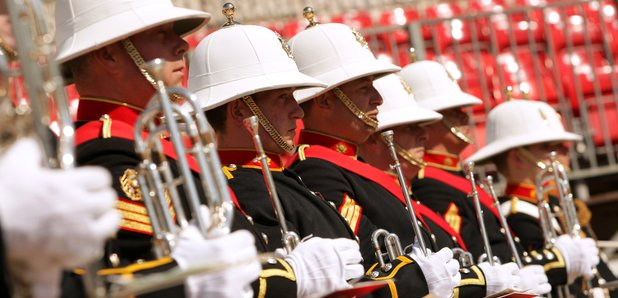 Since the mid eighteenth century, the Band of HM Royal Marines has been an integral part of the Corps, playing before and even during battles.
Life and Music
The original Royal Marines Band Service, together with its headquarters, the Royal Naval School of Music, was founded to provide bands for the Royal Navy.
Its original home was Eastney Barracks Portsmouth, where it remained until 1930 when it was transferred to the Royal Marines Depot, Deal. After the outbreak of World War II, it moved to Malvern, then it divided with the Junior Wing moving to the Isle of Man and the Senior Wing to Scarborough before reuniting at Burford in 1946 and finally returning to Deal in 1950.
In 2011 the Band of H.M. Marines signed a major record deal with Universal and made a bid for the charts with their album Summon The Heroes. The album featured a choir of serving sailors from HMS Illustrious singing Rod Stewart's Sailing, a recording of 'Over The Hills' featuring the popular English tenor Alfie Boe and a recording of the famous King's Speech On The Outbreak Of War set to music.
Did you know?
All Royal Marines Bands are required to provide every imaginable musical ensemble including orchestras and dance bands. To achieve this, most musicians are required to attain an acceptable standard on both a string and a wind instrument. Because of these demands, the Royal Marines musicians are regarded as some of the most versatile in the military musical world.
They're tough to join, but then there are always high expectations of this military band.
A recording of King George's famous speech will be heard over Eternal Father (For Those in Peril on the Sea).
Video: The Band of H.M. Royal Marines