Ambulance worker is filmed singing Puccini on the job – video goes viral
19 October 2016, 10:10 | Updated: 19 October 2016, 11:15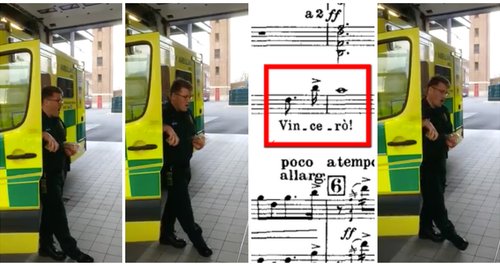 While most of us dunk biscuits and slurp tea in our break, this NHS worker keeps himself occupied by singing opera
Here's someone who not only comes to your help in your hour of need, but also soothes you with dulcet operatic tones at the same time!
On Sunday, Liverpool NHS Emergency Medical Technician Lewis Quinn was snapped casually singing part of Puccini's iconic piece 'Nessun Dorma' from Turandot in the hospital's ambulance bay. So far the video has racked up almost 50,000 views.
Here's the brilliant but super-casual performance
Lewis studied music in the United States and sang for the famous Mormon Tabernacle Choir, but told us he fell in love with ambulance work upon his return to the UK.
He has also joined Royal Liverpool Philharmonic Choir, so we'll look forward to seeing him on stage with our orchestra in the North West of England soon!