Johannes Brahms (1833-1897)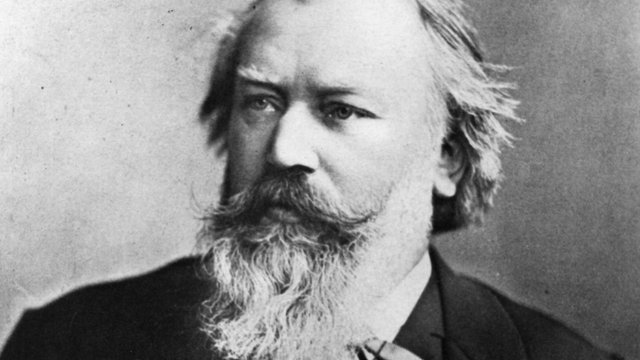 Life and Music
Brahms learned the piano at the age of eight; he improvised a piano sonata at 11, studied theory and composition at 13 and by 14 had made his public concert debut conducting a male-voice choir.

In 1850 Brahms partnered the refugee Hungarian violinist Eduard Remenyi, who introduced him to gypsy music and style.

Three years later in 1853 they toured together, and Brahms met the virtuoso violinist Joseph Joachim, who became a close friend.

Brahms and Joachim spent some time together at Gottingen, where Brahms jotted down the student verses that later formed the basis of his Academic Festival Overture. In the same period he wrote his ambitious First Piano Sonata.

Schumann was so impressed with Brahms's compositions and piano playing that, in an article in the Neue Zeitschrift für Musik, he hailed him as "the young eagle", adding that "he has arrived, a young man at whose cradle the Graces and Heroes have stood guard".

When Brahms heard of Schumann's nervous breakdown, he hurried to Dusseldorf to help the family. At this time he wrote his early masterpieces, including the original version of the First Piano Trio.

In 1863, the 30-year-old Brahms accepted the directorship of the Vienna Singakademie. He met Wagner the following year, though he failed to strike up a rapport. He also toured widely and taught the piano.

In 1869 Brahms made his final move, to Vienna, and the jealous Wagner attacked him in the press.

In 1897 Brahms died from cancer. His last public appearance was at a performance of his greatest orchestral work: the Fourth Symphony. On the day of his funeral, all the ships in Hamburg lowered their flags to half-mast.

Did you know?
Brahms was a master of nearly every type of classical music. He wrote four great symphonies, chamber music, and he composed particularly fine music for piano.
View more