What are the lyrics to India's national anthem?
15 September 2023, 10:49 | Updated: 18 September 2023, 16:20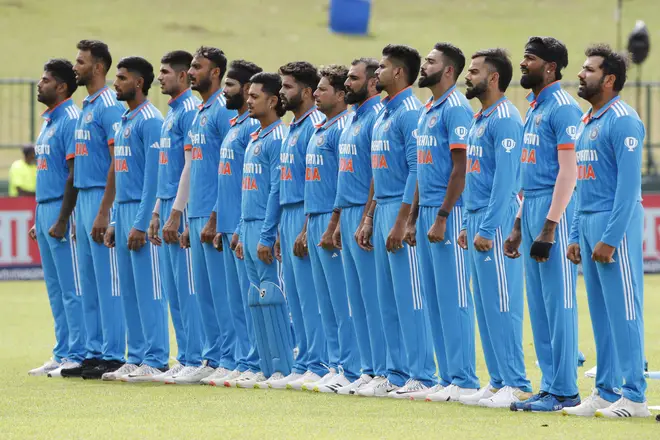 First performed in 1911, the Indian national anthem was composed by the country's first ever Nobel laureate. Discover its lyrics and history...
India's much-loved national anthem, 'Jana Gana Mana', literally translates as 'Thou Art the Ruler of the Minds of All People'.
Both words and music were written in 1911 by India's first Nobel laureate, Rabindranath Tagore.
Tagore's original version, titled 'Bharoto Bhagyo Bidhata' was a five-stanza Brahmo hymn written in a Sanskritized dialect of Bengali known as 'Sadhu Bhasha'. This version was first performed in public in December 1911.
The first stanza of Tagore's anthem, which when performed lasts around 52 seconds, was officially recognised as India's national anthem in 1950, by the Constituent Assembly of India. An even shorter version, consisting of just the first and last lines, is also sometimes staged.
When India celebrated the end of British rule in 1947, the year of the Indian Independence Act, the Indian Constituent Assembly assembled for the first time as a sovereign body. They closed their meeting by joining in song, to sing 'Jana Gana Mana'.
In 2023, to mark Indian Independence Day on 15 August, a premiere performance marked the largest symphony orchestra ever to record 'Jana Gana Mana'. Three-time Grammy Award winning Indian composer Ricky Kej led the mighty Royal Philharmonic Orchestra in a performance of the Indian national anthem at Abbey Road Studios in London (watch below).
Read more: What is a national anthem and why do we sing them at sporting events?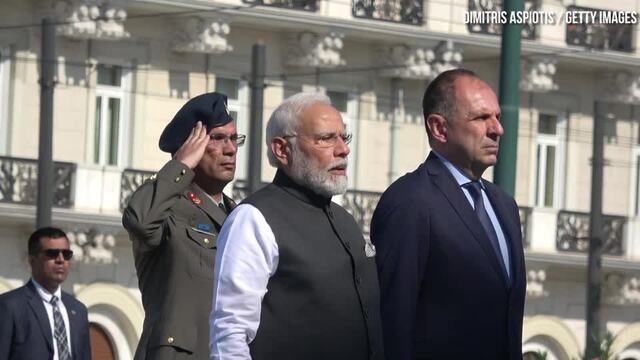 Narendra Modi listens to India's national anthem
What are the lyrics to India's national anthem in English?
The lyrics to 'Jana Gana Mana' were first translated into English during Tagore's stay at Besant Theosophical College at the invitation of Irish poet James H. Cousins. Tagore noted down the English translation, and the musical notations were set by the poet's wife, Margaret Cousins.
Thou art the ruler of the minds of all people,
Dispenser of India's destiny.
Thy name rouses the hearts of Punjab, Sindhu,
Gujarat and Maratha,
Of the Dravida and Orissa and Bengal;
It echoes in the hills of the Vindhyas and Himalayas,
mingles in the music of Jamuna and Ganges and is
chanted by the waves of the Indian Sea.
They pray for thy blessings and sing thy praise.
The saving of all people waits in thy hand,
Thou dispenser of India's destiny.
Victory, victory, victory to thee.
National Anthem Of India - Ricky Kej - 100 Member British Orchestra - Royal Philharmonic
What are the lyrics to India's national anthem?
Jana-gana-mana-adhinayaka, jaya he
Bharata-bhagya-vidhata.
Punjab-Sindh-Gujarat-Maratha
Dravida-Utkala-Banga
Vindhya-Himachala-Yamuna-Ganga
Uchchala-Jaladhi-taranga.
Tava shubha name jage,
Tava shubha asisa mage,
Gahe tava jaya gatha,
Jana-gana-mangala-dayaka jaya he
Bharata-bhagya-vidhata.
Jaya he, jaya he, jaya he,
Jaya jaya jaya, jaya he!