André Rieu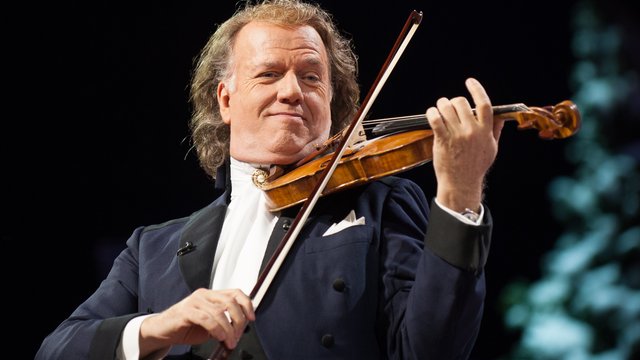 André Léon Marie Nicolas Rieu was born on 1 October 1949.

André and his five siblings were surrounded by classical music throughout their childhood in Maastricht, Holland. Their father, a professional conductor, encouraged André to take up violin lessons at the age of five.

After leaving school, André continued his musical training at conservatoires in Liège, Maastricht and Brussels, where he gained the Premier Prix.

André founded his first orchestra in 1978, the Maastricht Salon Orchestra. Nine years later, he directed the first rehearsals of the Johann Strauss Orchestra, at that time just 12-strong.

The Johann Strauss Orchestra has grown from strength to strength and now has up to 50 players. The orchestra's first CD, 'From Holland with Love' (1994) stayed in the Top 10 chart in the Netherlands for over a year.

In 2001 the André Rieu Productions Company founded a record label, on which the Orchestra's CDs and DVDs now appear exclusively.

His 2011 album 'And The Waltz Goes On' features a waltz composed by actor Sir Anthony Hopkins.

Aside from the dozens of album recordings, Andre and his orchestra are famous for their huge live shows and massive touring schedule. Their world tours have taken them across the globe, but every year Rieu makes sure to play in his home town of Maastricht.

Rieu lives in a castle in Maastricht, where several of his live DVDs have been filmed, with his wife.

In 2013 André received the Classic BRIT Award for album of the year for the third time in a row, with his 'And The Waltz Goes On' record.

Did you know?
In 2009 Andre made a cameo appearance as himself on "Ramsay Street" in the long-running Australian soap opera Neighbours.
View more
Best André Rieu recordings
André Rieu news and features