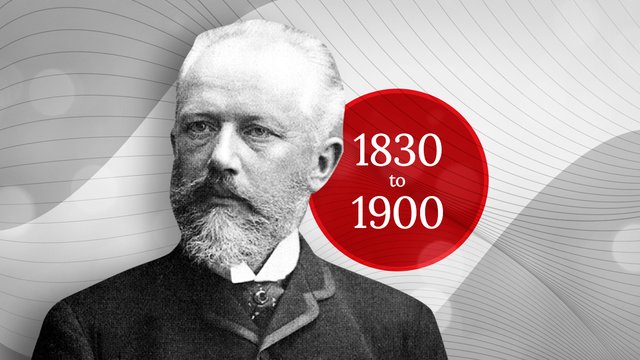 Romantic
The Romantic era is known for its intense energy and passion. The rigid forms of classical music gave way to greater expression, and music grew closer to art, literature and theatre.

Beethoven pioneered Romanticism and expanded previously strict formulas for symphonies and sonatas, and introduced a whole new approach to music, giving his works references to other aspects of life - for example, his 'Pastoral' Symphony No. 6 describes countryside scenes.

As well as symphonies, the tone poem and descriptive overture were popular as pieces of stand-alone orchestral music that evoked anything from a painting or poem to a feeling of nationalistic fervour.

The Romantic era gave birth to the virtuoso. Liszt was one of the greatest of his time, and wrote demanding piano music to show off his own brilliance. Chopin is also among the outstanding composer-performers from this time. In the world of opera, cue the entrance of Verdi in the middle of the Romantic era. He turned Italian opera on its head by introducing new subject material, often with social, political or nationalistic themes, and combined these with a direct approach to composing.

Germany's Richard Wagner also played a key role in developing the operatic genre.Before Wagner, the action and music in opera was split into short pieces or 'numbers' much like a modern-day musical show. Wagner's operas are written as long, continuous sweeps of music. The characters and ideas are given short signature melodies called leitmotifs.

Wagner's ideas dominated most music, from the large-scale symphonies of Bruckner and Mahler to the heroic tone poems and operas of Richard Strauss, even reaching Italy, where Verdi and Puccini started to produce operas according to many of Wagner's rules.

Ideas and compositions became more and more outlandish and inventive until the musical rules had to be rewritten, and the scene was set for the biggest change in music for centuries - the beginning of Modernism.
View more
Classic FM's Fast And Friendly Guide To The Romantic Era
01:44
Download Classic FM's music period collections
Classic FM collection: Romantic: 1830 to 1900
30 tracks - £6.99
Ensemble: Philharmonia Orchestra; Boston Pops Orchestra and more
Soloists: Joseph Calleja; Mischa Maisky; Ji Liu and more
Classic FM collection: Classical: 1750 to 1830
30 tracks - £6.99
Ensemble: The The Royal Concertgebouw Orchestra; Academy of St. Martin in the Fields and more
Soloists: Janine Jansen; Mitsuko Uchida; Beaux Arts Trio and more