André Rieu facts: the Dutch violinist's wife, concerts, net worth and his Johann Strauss Orchestra
4 August 2023, 15:03 | Updated: 4 August 2023, 15:05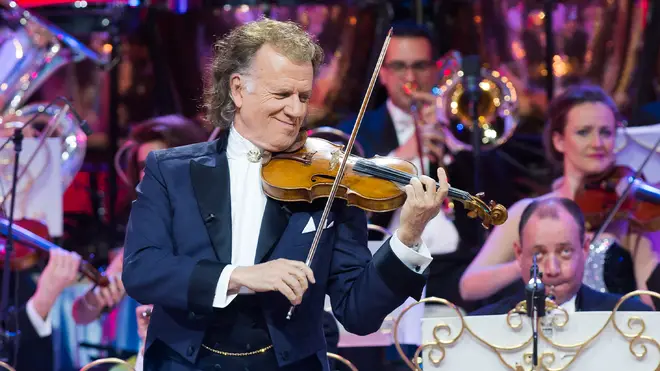 André Rieu, King of the Waltz, is one of today's most successful classical performing artists. Here's everything you need to know about the Dutch violinist and his Johann Strauss Orchestra.
Dutch violinist André Rieu, who puts on the world's most elaborate waltz extravaganzas, is credited with heralding a global revival of the waltz, inspiring fans around the world with his music.
Today, he is one of the biggest solo male touring artists in the world, outselling on occasion AC/DC, Bruce Springsteen and even Coldplay with his shows.
From his upcoming concerts to his famed Maastricht castle, here's everything you need to know about André Rieu.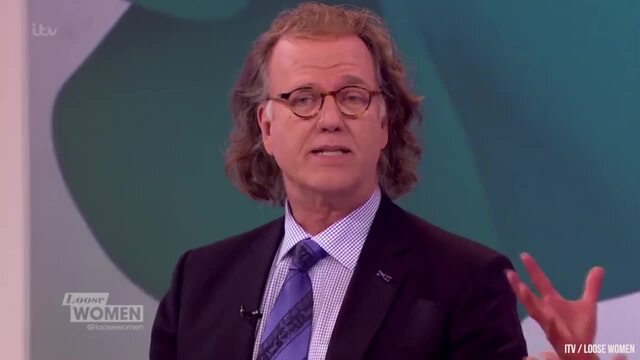 Andre Rieu Talks About His First Music Teacher And Mozart
When was André Rieu born?

André Léon Marie Nicolas Rieu was born on 1 October 1949 in Maastricht, Netherlands. On 1 October 2023, he will turn 74 years old.

Rieu was born the third of six children. His father, Andries Antonie Rieu, was the conductor of the Maastricht Symphony Orchestra. A young André showed plenty of musical promise, taking up the violin from age five.

Growing up, Rieu learned to speak six languages: Dutch, English, German, French, Italian and Spanish.

Read more: André Rieu donates £360k to provide music lessons for 1,000 children

Young André Rieu was fascinated by the orchestra.

Picture: Getty

Who is André Rieu's wife?

André Rieu has been married to his wife, Marjorie Rieu, for 47 years (as he told us in the exclusive Valentine's Day video below). Marjorie has taught languages, and written her own music. She rarely appears in public with André and once said in an interview that she doesn't want to be defined by her husband.

Mr and Mrs Rieu have two sons and five grandchildren.

André Rieu's Valentine's Day video

Where does André Rieu live?

André Rieu lives with his wife, Marjorie, in a castle built in 1492 in his hometown of Maastricht in the Netherlands.

Rieu visited the castle for his childhood piano lessons, and dreamed he would one day fill it with chandeliers and paintings, and live in it. That dream is now a reality, and the star holds his interviews and receives his guests at the Castle 'de Torentjes'.

The violinist granted Classic FM exclusive, intimate access to his Maastricht castle in 2014 – see all the photos here.

André Rieu's Maastricht Castle: exclusive behind the scenes look.

Picture: Lloyd Stas

André Rieu's Maastricht Castle: exclusive behind the scenes look.

Picture: Lloyd Stas

André Rieu's concerts and how to get tickets

At an André Rieu concert, you're just as likely to hear a Strauss waltz, as you are an orchestrated rendition of Lou Bega's Mambo No.5.

"My concerts are about joy and love!" Rieu once said of his famed around-the-world concerts, which have enormous productions involving, often, an open-air setting, large audience, and soloists alongside The Johann Strauss Orchestra (tickets here).

Many of Rieu's concerts are filmed for cinema streams and DVD releases, and the performances will often go viral afterwards, with millions of views on YouTube.

"People often ask me 'how do you choose your program?' – the answer is: with my heart. I love Johann Strauss but I am also fascinated by Andrew Lloyd Webber or Bruce Springsteen," he added. "We should stop limiting ourselves with categories and boundaries – not just in terms of music but in our lives in general."

Watch Rieu perform the 'Macarena' with Los Del Rio, and just try not to crack a smile.

André Rieu ft. Los Del Rio - Macarena

André Rieu's Johann Strauss Orchestra

André Rieu's biggest accomplishment is arguably his waltz-playing Johann Strauss Orchestra, the largest private orchestra in the world, completely privately owned and funded.

He founded the ensemble in 1987, and its initial 12 members gave its first concert on 1 January 1988. As of 2020, the Johann Strauss Orchestra has 50 to 60 members, and tours throughout Europe, Australia, North and South America, and Japan.

Rieu himself always performs solo in front of the orchestra, conducting them and playing his 1667 Stradivarius violin.

Read more: André Rieu's top 10 waltzes of all time

André Rieu - The Beautiful Blue Danube

Did André Rieu buy a castle and what's his net worth?

André Rieu's net worth is estimated to be around $40 million (£31.3 million).

However, he previously admitted that the lavish £24 million fairy tale castle he designed for his 2008 concert in Schönbrunn, Vienna, left him bankrupt.

Andre Rieu poses in front of the Schoenbrunn Castle on 28 May 2010 in Vienna, Austria.

Picture: Christian Ort/Getty Images

What is André Rieu doing now?

André Rieu is on tour in 2023 with his Johann Strauss Orchestra and has upcoming concerts across Europe and the US.

The violinist regularly releases albums and DVDs on his record label, Universal Music, including Happy Together (2021) and Silver Bells (2022), both recorded with The Johann Strauss Orchestra.

In January 2020, Classic FM's Chart of the Century revealed that André Rieu was among the best-selling classical artists since the year 2000.

Since he started performing on stage more than 30 years ago until 2010, when he developed a viral ear infection, André claims he had never fallen ill. He even went to the doctor because he was so concerned, but the doctor allegedly said: "Mr Rieu, you are a miracle. Your heart beats in ¾ time." No wonder he is so good at waltzing...

Andre Rieu Talks About His Marriage And Children