The 15 greatest symphonies of all time
21 February 2023, 18:04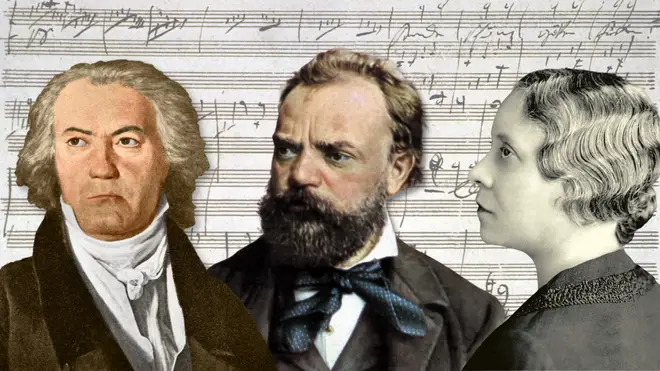 We think these are the greatest symphonies of all time – the biggest, most emotional, most impressive and plain-old flabbergasting works ever written.
From Mozart to Florence Price and Beethoven, with some lesser-known discoveries along the way, let the epicness commence…
Read more: The 15 most famous tunes in classical music
Mozart – Symphony No. 41

Mozart's final symphony was also his best – and it's no coincidence that it's subtitled 'Jupiter', either. Mozart threw absolutely everything at this epic, his longest symphony. Marvel at the five-theme fugal ending, gasp at the quotations of plainchant motifs, and simply recoil in wonder at the majesty of it all...

Read more: 30 of the greatest classical music composers of all time

Mozart: Symphony No. 41 "Jupiter" / Rattle · Berliner Philharmoniker

Florence Price – Symphony No.1

In 1932, Florence Price took home first prize in a competition for her glorious Symphony No.1 in E minor, a thrilling four-movement work packed with soaring melodies.

The following year, Price became the first African American woman to have her music performed by a major US orchestra, when her Symphony was performed by the Chicago Symphony. The music critic of the Chicago Daily News declared it "a faultless work, a work that speaks its own message with restraint and yet with passion… worthy of a place in the regular symphonic repertoire."

Vote now: Cast your three choices in the Classic FM Hall of Fame 2023

Chineke! Orchestra - Florence B. Price Symphony no 1 in E minor, 1st movement

Beethoven – Symphony No. 9 ('Choral')

Written when the composer himself was profoundly deaf, Beethoven's Ninth Symphony is without question, one of the greatest works in the classical repertoire, labelled by Classic FM presenter and Beethoven expert, John Suchet, as "the culmination of Beethoven's genius".

It's his longest and most complex, and that final hymnal theme, the 'Ode to Joy', has come to symbolise hope, unity and fellowship across borders and through conflicts. Today, it is the official anthem for the European Union.

Read more: Listen to this 10,000-strong Japanese megachoir sing Beethoven's 'Ode to Joy'

Beethoven Symphony No 9 Flashmob in Nuremberg, Germany.

Mahler – Symphony No. 2 ('Resurrection')

This masterful symphony was Mahler's most loved work during his own lifetime, and an absolute triumph at its premiere. Written across a six-year period, it represents the entire lifecycle of the human condition, ending with a triumphant, supernatural return to life.

It requires at least 10 French horns, a load of church bells, two soloists and an immense choir, alongside the gargantuan sized symphony orchestra. Suffice to say, as live music experiences go, it's not one you'll forget in a hurry.

Mahler's "Resurrection" Symphony

Dvořák – Symphony No. 9 ('From The New World')

The subtitle of Dvořák's Symphony No. 9 is important: it's not 'To the New World'; it's 'From' – this is very much a symphony that looks back, from the US, to the composer's native Bohemia.

It's one of the most poignant, energetic, elegiac and spiritual symphonies ever composed, with some of the most glorious melodies of all time.

Neeme Järvi​ and the Verbier Festival​ Orchestra perform Dvorák Symphony No. 9

Berlioz – Symphonie Fantastique

Is it a symphony? Or a symphonic fantasy or a tone poem? And does its five-movement structure actually take it a step away from the idiom?

Well – what does matter, is that Berlioz wrote one of the wackiest pieces of music to come out of the Romantic period, while managing to make it a total hit and an artistically sound statement.

Berlioz : Symphonie Fantastique (Philharmonique de Radio France / Myung-Whun Chung)

Brahms – Symphony No. 4

When the dust had settled from Brahms' first symphony (he was heavily touted in his day as the successor to Beethoven in symphony land), he set about creating one of the most consistent sets of symphonies in history. The fourth and final, composed up a mountain in 1884, has to be the best one though, proving to be one of his most emotionally daring works and sealing his reputation as one of the symphonic masters.

Symphony No. 4 / Johannes Brahms / Klaus Mäkelä / Oslo Philharmonic

Gorecki – Symphony No. 3 ('Symphony of Sorrowful Songs')

A recording phenomenon in the 1990s, Gorecki's third is not only popular now: it's destined to be a future classic. The concept is innovative and watertight – a soprano sings three texts inspired by themes of parents and missing children over a sparse and simple orchestral backing – but it's the second movement that's proved the real winner.

The text, taken from a message scrawled on the wall of a Gestapo cell in World War II, dovetails so perfectly with Gorecki's bare-bones accompaniment that it's impossible to imagine a future without it.

Polish composer Henryk Gorecki.

Picture: Alamy

Shostakovich – Symphony No. 5

Shostakovich wrote 15 symphonies in total, and he's unique in that almost all of them made an actual cultural impact. But of them all, the fifth has to be considered the greatest: sarcastic and funereal, inflammatory yet somehow managing to toe the party line – the final movement can be seen as both a parody of Stalinist excess, and an example of it – this was the symphony that made the young Shostakovich a name, for better or worse.

Schostakowitsch: 5. Sinfonie ∙ hr-Sinfonieorchester ∙ David Afkham

Louise Farrenc – Symphony No.3

Farrenc's Third is home to one of the most glorious finales in all symphonic repertoire, chocka with tense, agitated strings following a deceptively soft, melodic oboe and clarinet-based introduction.

At the time of writing, Farrenc was unable to attend composition classes at the Paris Conservatoire, as they were only open to men.

Louise Farrenc's Symphony No. 3 // Aurora Orchestra

William Grant Still – 'Afro-American' Symphony No.1

American composer William Grant Still's Symphony No.1, which weaves influences from jazz and spirituals into a classical form to tell the history, experience and struggle of Black life in America, was the first work by a Black composer to be played by a major US orchestra.

Six years after the Rochester Philharmonic performed it in 1931, the composer himself famously conducted it at the Hollywood Bowl.

William Grant Still: "Afro-American" Symphony | The Orchestra Now

Tchaikovsky – Symphony No. 6 ('Pathétique')

This is undoubtedly one of the most emotionally-charged works in the symphonic repertoire. Supposedly written as a desperate musical example of Tchaikovsky's struggle with his sexuality and personal life, it conjures the most incredible sense of yearning, nostalgia and regret throughout four movements.

It must have been an incredible undertaking for the composer, who died just nine days after its first performance.

Tchaikovsky: Symphony No. 6 Pathetique | Dresden Philharmonic & Marek Janowski

Rachmaninov – Symphony No. 2

Rachmaninov's indulgent second symphony has stealthily become a hugely popular concert favourite. It's all the more remarkable that it's survived because the composer himself thought the work was pretty abject.

The reviews for his first symphony had been terrible and he was nervous about how the follow-up would be received. He needn't have worried, of course. It became an award-winner, and the slow movement contains perhaps the finest command of melody and orchestration in Rachmaninov's entire output.

Rachmaninoff's Symphony No. 2 / Vasily Petrenko / Oslo Philharmonic

Sibelius – Symphony No.5

A triumphant symphony, with an unforgettable final movement which supposedly conveys the majestic call of the whooper swan.

Conductor Paavo Järvi, a great lover of Sibelius 5, said of the symphony's unexpected ending, which ends with six massive chords: "It scares audiences who hear it for the first time. After the first chord, usually somebody starts applauding, after the second chord somebody else starts applauding, and when the piece is finished there's total silence because people are so ashamed that they applauded after the first chord.

"But if it's done right and if the timing is right and it's done with conviction, it could not be more effective. It has an unbelievable sense of inevitability."

Sibelius: Symphony No. 5 / P. Järvi · Berliner Philharmoniker

Beethoven – 'Eroica' Symphony No.3

Composed in 1803, this victorious, revolutionary symphony closed the door on the Classical period, and ushered in the early days of the Romantic era. Widely considered the first 'Romantic' symphony, it was grander and more dramatic than the symphonies of his contemporaries, and inspired a new style that would hold sway in the 19th century.

An admirer of the ideals of the French Revolution, Beethoven dedicated the 'Eroica' to Napoleon Bonaparte. That is, until Napoleon declared himself emperor, and Beethoven sprang into a rage, scrubbing out his name from the manuscript.

Beethoven: Symphony No. 3 "Eroica" / Rattle · Berliner Philharmoniker
Want to see your favourite symphony in the Top 300 of the Classic FM Hall of Fame 2023? Cast your votes here.