Marin Alsop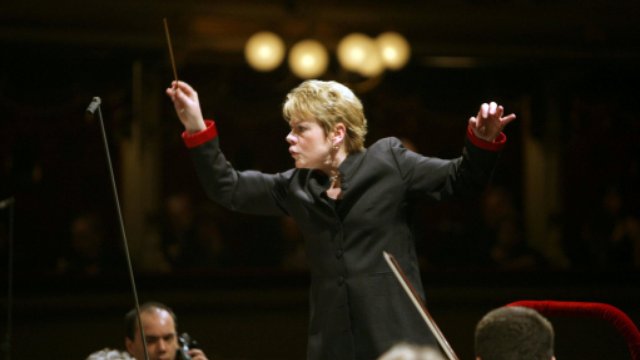 Born in New York on October 16th, 1956, Alsop studied for a Bachelor's in music at Yale University and a Master's at the Juilliard.

A popular figure on the UK music scene, Alsop has appeared with many of the great British orchestras. She was Principal Conductor of the Bournemouth Symphony from 2002 to 2008 and is now Conductor Emeritus. In 1999 she was made principal guest conductor of the City of London Sinfonia and the Royal Scottish National Orchestra. She has also appeared with the BBC SO, LSO, LPO and the Orchestra of the Age of Enlightenment.

Alsop has championed modern American music, making acclaimed recordings of works by composers including Barber and Gershwin. In 1984 she founded Concordia, a 50-piece orchestra specialising in contemporary repertoire, which she regularly conducts at New York's Lincoln Center. She also plays jazz violin with her band String Fever.

Alsop has been bestowed with a whole host of honours, ranging from a Classical Brit Award for Best Female Artist, a European Women of Achievement Award and a fellowship of the American Academy of Arts and Sciences.

In 2003 she broke another record, becoming the first person to win both Gramophone's Artist of the Year Award and the Royal Philharmonic Society's Conductor's Award in the same season.

Alsop was invited to attend the 2006 meeting of the World Economic Forum in Davos, Switzerland, the only classical musician present alongside presidents, prime ministers and CEOs of the world's most powerful companies. She has been profiled in Time and Newsweek, appeared on NBC's Today Show, and was featured as ABC News' Person of the Week.

Alsop made history in 2007 as the first woman to be appointed music director of a major American orchestra, the Baltimore Symphony.
View more
Best Marin Alsop recordings
Marin Alsop news and features