What's the difference between an opera and a musical?
24 May 2018, 14:01 | Updated: 5 May 2021, 08:47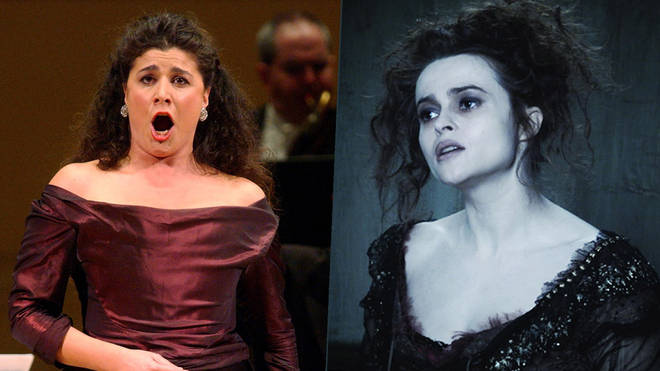 In a musical, the singing is interspersed with passages of dialogue, while in an opera, the singing never stops (very broadly speaking). But there are a few other elements which separate the two theatrical worlds…
Musicals, generally speaking have a combination of singing and speaking. But of course, like all the best rules, this one is here to be broken – take a look at Les Misérables, for example.
Meanwhile although some operas include spoken passages or speech-like sections called 'recitatives', they are mostly sung without any spoken dialogue.
In musical theatre, the words are the driving force
In musicals, the text is at least as important as the music. In opera, it's the music that people remember the most (there are of course some exceptions, don't @ us).
For this reason, there are several musical theatre roles that prioritise strong acting and comic timing over a great singing voice. Take Mrs Lovett in Sweeney Todd, who sings pretty much in her speaking voice – with a touch of Cockney.
In an opera, however, the music comes first. So if you're playing Mimi in La Bohéme and singing isn't your strong point, you might be in a teensy bit of trouble…
But musical theatre scores can still be musically sophisticated. As Sondheim proves in Sweeney Todd, the silliest, most gruesome subject matter can be accompanied by the most spectacular music.
'My Friends' is a tender love song dedicated to Sweeney's cut-throat razors, while 'A Little Priest', sung when Sweeney and Mrs Lovett first conjure their idea for a cannibal pie shop, is a jaunty three-four waltz.
There are a few shows that bridge the gap
Should Sweeney Todd be classed as a musical or an opera – or even an operetta, like the works of Gilbert and Sullivan? It's generally known as a musical, yet in Sondheim's stage show, Sweeney has an operatic baritone voice, while the actress playing Johanna Barker needs an operatic – or at least classical – voice to sing 'Green Finch and Linnet Bird'.
Similarly, West Side Story is classed as a musical. But its composer Leonard Bernstein was a classical composer and conductor, and even Classic FM presenter John Suchet thinks 'Maria' should be an aria, not a ballad.
But opera singers sound different…
This is true. Opera singers need to project, unamplified over an orchestra, to the back of an opera house – which is why they need to warm their voices up with plenty of vibrato to help it carry.
Why do opera singers use so much vibrato?
But musical theatre singers can use microphones – which makes the hefty vibrato a bit less necessary. Instead, it's more common for a musical theatre singer to belt or use their head voice to produce a big, emotional sound.
There's also the dancing.
Dance scenes in opera tend to take the form of a ballet interlude which is performed by trained ballet dancers, not the singing cast.
But most musical theatre performers need to master both singing and dancing. Take Chicago: the actress playing Velma Kelly needs both the vocal strength to sing 'I Can't Do It Alone' and the dancing prowess to master 'All That Jazz'.
Musical theatre is generally performed in English.
The first musicals originated in the US, and musicals today continue (mostly) to be written and performed in English.But opera singers have to learn Italian, German, French and more. For the performer, giving a convincing performance of an aria in another language is challenging.
But in general, it's the tune the audience will know and remember rather than the text.
What about the subject matter?
Sure, a lot of characters die in opera, and most popular Broadway and West End musicals like The Lion King and The Book of Mormon boast a happier ending than Carmen and Madam Butterfly.
But there are also many musicals that are directly inspired by operas – Miss Saigon takes inspiration from Madam Butterfly, for example. And Rent pays tribute to La Bohéme with an up-to-date pop-musical score.
So, are musicals basically modern-day operas?
Sort of – but there are also plenty of modern operas. Take Dead Man Walking, Jake Heggie's American contemporary opera, which tells the harrowing tale of an inmate on death row who asks a nun to be his spiritual adviser.
The most notable differences in opera and musical theatre are the ratio of singing to speaking, and the style of the singing. But what they both provide is a powerful musical vehicle for heartbreak, despair and utter joy.
It's also pretty great when they come together. Take it away, Bryn…