Listen to this 10,000-strong Japanese megachoir sing Beethoven's 'Ode to Joy'
26 January 2023, 17:05 | Updated: 27 January 2023, 14:14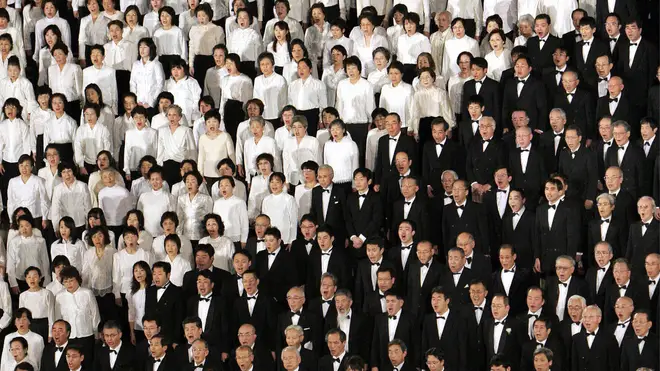 Over a century ago, Beethoven's Ninth Symphony reached Japan in an unexpected way. Today, it's one of their most celebrated pieces of repertoire, and there's a very particular performance of it once a year we think you should see.
When Beethoven wrote his Ninth Symphony, he probably had no inkling of the worldwide phenomenon the triumphant choral climax of his work would become.
The final movement of his final symphony, or as it's more commonly called, 'Ode to Joy', has its vocal libretto taken from a 1785 German poet Friedrich Schiller of the same name.
The choral work's lyrics are often associated with messages of freedom, hope, and unity, and when sung by a large chorus to Beethoven's simple stepwise melody, have great power and resonance across the world.
And no performance is arguably more powerful than that of a choir totalling over 10,000 singers.
In Japan, every December, 'Ode to Joy' is sung all across the country, but the most notable performance takes place once a year, when 10,000 singers join together to sing the German composer's most famed vocal work.
A performance like this can't accurately be described any other way, than by listening. Watch it below...
Read more: The remarkable story of Beethoven's 'Choral' Symphony No. 9
Beethoven - Symphony No.9 (10000 Japanese) - Freude schöner Götterfunken
This particular performance, recorded in December 2012, was conducted by Yutaka Sado – a Japanese conductor who studied under Leonard Bernstein and Seiji Ozawa.
Along with professional soloists, a smaller chamber choir and an orchestra, the remaining singers in the 10,000-strong choir are all untrained, or amateurs who wish to take part in the annual 'Daiku' (translated literally as number nine, in reference to Beethoven's symphony).
'Ode to Joy' is sung by the Japanese choir in German, and the singers taking part in the event spend anywhere from between weeks and months preparing to sing in the original language.
It is a privilege to be chosen to sing as part of the 10,000-voice choir, as the chance to perform with the ensemble is oversubscribed every year. The first time the choir sang with over 10,000 members was during the coronavirus pandemic, when 11,961 voices joined virtually around the world to celebrate Beethoven's 250th birth year.
Read more: Beethoven at 250: famous figures share what his music means to them, in 250 words
"SUNTORY Presents Beethoven's 9th with a Cast of 10,000" Hearts Together. Freude for the Future.
But why Beethoven? Ode to Joy's significance in Japan
How Beethoven's vocal work arrived in Japan is a solemn story which originates during the First World War.
During this war, Japan and Germany were enemies, and approximately 1,000 German soldiers were captured from the German-occupied Chinese island of Qingdao, and taken to a Japanese prisoner-of-war camp in 1914.
Subsequently, 'Ode to Joy' is said to have arrived in Japan via these German prisoners, who would sing the Beethoven masterwork while being held in Naruto's Bando War Camp.
By 1918, the war camp had taken on more prisoners. And in July of that year, one German prisoner of war led an orchestra (made up of mostly handmade instruments) of 45 prisoners, and an 80-strong all-male choir, in a performance of the Ninth.
News of this concert spread across Japan, and by 1925, the first known performance of the Ninth by Japanese musicians was performed by students at the predecessor of the Tokyo University of the Arts.
Read more: What are the lyrics to 'Ode to Joy', Beethoven's triumphant choral anthem?
Over 100 years since the Bando prison camp was destroyed, remnants of that first musical exchange remain in modern day Naruto.
A roadside station named the 'Home of the Ninth' stands in Naruto today, selling German sausages among the usual goods found in such stores. The building is notably constructed from the original parts and materials used in the prisoner-of-war camp.
A statue of Beethoven also stands nearby, erected in 1997 by German sculptor Peter Kuschel. Surrounding the statue are pictures taken at various anniversary concerts, marking the first performance of his Ninth in Asia in that prison camp in 1918.
Despite its solemn beginnings, the Ninth has become a staple of Japan's performance repertoire. And with its themes of friendship, fellowship, and unity, it's no wonder this choral work is still so widely performed all across the world today.
Want to see Beethoven in the Top 300 of the Classic FM Hall of Fame 2023? Cast your votes here and be entered into our prize draw.