11 of the best classical music festivals you can enjoy online this summer
10 August 2020, 14:30 | Updated: 10 August 2020, 14:36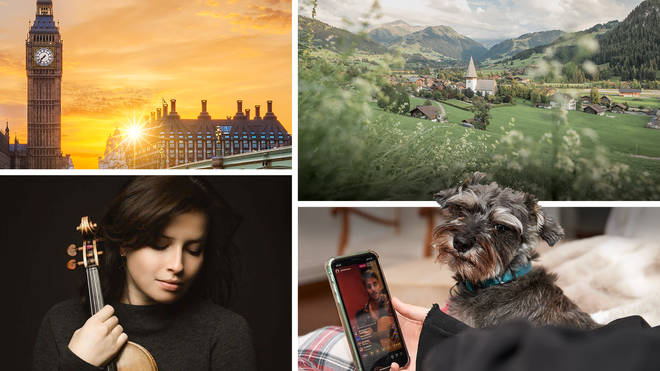 Many festivals have been cancelled due to COVID-19 this year – but that doesn't mean we can't enjoy what they have to offer virtually.
The ongoing coronavirus pandemic has closed concert halls, cut seasons short and led to the cancellation of music events around the world.
But in spite of challenges and set-backs in the classical music world – which are all too real and heartbreaking – disruption from COVID-19 has also inspired creativity and new ways of sharing the joys of music. From balcony baritones and distanced duets, to making music in livings rooms with children, pets and stray housemates in tow, we've seen a lot.
And the world's greatest festivals are no exception. The likes of Glyndebourne and Verbier have all jumped online to present new virtual offerings of what they do best this summer. Here are some of our top picks.
Read more: Glyndebourne cancels 2020 festival, but we're working with them to bring you virtual operas >
VOCES8 Foundation's 'Live from London'

'Live from London' is a new online festival featuring beautiful music from some of the world's best vocal ensembles, including The Sixteen (The Voices of Classic FM), VOCES8, I Fagiolini, Stile Antico, The Gesualdo Six, Apollo5 and The Swingles.

Broadcast weekly on Saturdays – from Saturday 1 August – the festival invites audiences to watch stunning concerts filmed at St Anne and St Agnes Church in the heart of London online in HD.

Some of the ensembles will be coming together to perform for the first time since lockdown, and they will all be revisiting their very favourite repertoire. 'Tickets' for the event are not free, and instead the festival aims to raise money for music education initiatives.

Season passes are £80 (£8 per concert, per household) or single concert tickets are £12.50, with concessions available for students and choirs across the world.

Visit: voces8.foundation/livefromlondon.

Live From London

00:02:08

Edinburgh International Festival Digital Camber Concerts

Edinburgh International Festival is among the many festivals impacted by the coronavirus pandemic.

But through crisis comes creativity – and under the banner 'My Light Will Shine On', Edinburgh is going digital and bringing special concerts, film commissions, light installations and other virtual events to festival fans.

A centrepiece is the chamber concert series featuring world-class musicians, and we're partnering to host five exclusive Facebook Premieres of concerts featuring pianists Paul Lewis, Anglela Hewitt and Steven Osborne, the Royal Scottish National Orchestra, and more throughout August.

Visit: eif.co.uk

Virtual Verbier Festival

Verbier Festival is teaming up with Medici TV to bring its offering to online audiences for free this year, due to the coronavirus pandemic.

From 16 July to 31 October, audiences can access the festival at 'VF at Home' and enjoy video interviews, masterclasses and re-broadcasts of wonderful concerts and rarities from the Festival's stages over the years – including from pianists Martha Argerich and Yuja Wang, violinist Joshua Bell, and Gautier & Renaud Capuçon.

The Festival's Academy will also be available online.

Visit: www.verbierfestival.com

Virtual Verbier Festival.

Picture: Getty / Classic FM

Gstaad Menuhin Festival & Academy's Pop-up Festival 2020

Switzerland's picturesque Gstaad Menuhin Festival streams audience-free, live performances from its Saanenland venues – all revolving around the theme 'Cosmos Beethoven'.

Pianist András Schiff, cellist Sol Gabetta, violinist Patricia Kopatchinskaja and tenor Daniel Behle will all make appearances, bringing live music to the comfort of your own home as travel remains restricted for many due to the coronavirus pandemic.

Another strand to this year's online iteration of Gstaad is a 'Jeunes Etoiles' arm of the festival, which celebrates young talent with concerts from five up-and-coming talented musicians, each of whom are vying for the chance to play at the 2021 Gstaad Menuhin Festival, chosen by public vote.

Visit: www.gstaaddigitalfestival.ch

Saanen church, the location of the Gstaad Menuhin Festival & Academy's Pop-up Festival 2020.

Picture: Destination Gstaad / Melanie Uhkoetter

Gstaad Menuhin Festival Online Academy

The Gstaad Menuhin Festival was sadly cancelled earlier in the year due to the coronavirus pandemic. But good news for festival fans is that the festival's Academy is available online.

Past concert highlights, backstage interviews and exclusive masterclasses can all be accessed for a taste of the beautiful Swiss Alps and their stunning venues can be experienced from the comfort of your own home.

Visit: www.gstaaddigitalfestival.ch

Salzburg Online Festival

2020 marks Salzburg's 100th anniversary, and the festival isn't letting the pandemic dampen the opportunity to celebrate world-class music making.

Like other festivals, it's moved its programme online and is making the most of streaming technology to bring us performances from the likes of the Vienna Philharmonic, the Berlin Phil and Camerata Salzburg.

Trombonist at Vienna Philharmonic, Kelton Koch talks to Classic FM about the impact of COVID-19 on music and featuring this year's online festival: "Social distancing forced many musicians to find innovative ways to use technology to share and teach music.

In the future, these methods can be utilised in conjunction with tradition teaching methods to create a richer learning environment for students – creating only digital content will give orchestra musicians additional tools to engage with audiences."

There are drawbacks, of course, and like many of us Koch misses the joy of live music, made and experienced in person. "At the same time, being deprived of playing and listening to concerts in person demonstrated the vitality of experiencing art in person," he says.

"It also gave artists a deeper appreciation of how much fulfilment comes from playing music with others and being a part of their musical communities.

"Many orchestras around the world are already in a vulnerable position financially, and the pandemic's devastating economic blow could sink them into a hole that might be too difficult to climb out of. For the orchestras that may not survive, their communities will experience a major loss of the artistic, educational, and social value these ensembles bring."

Visit: www.salzburgerfestspiele.at

Glyndebourne Open House

Glyndebourne has moved its 2020 festival off the lawns and plush seats of Glyndebourne House, and into YOUR house for 'Glyndebourne Open House'.

We recommend you dust off your picnic basket, don your best bow tie, pour the cold fizz – and enjoy the series of Mozart operas included in the online festival from your garden.

Even better? We partnered with Glyndebourne to bring two instalments of the festival – Jonathan Kent's adaptation of Mozart's Don Giovanni last Sunday 31 May, and Nicholas Hytner's take on Così fan tutte at 5pm this Sunday 6 June – direct to your garden or living room, via our Facebook Page.

Operas by Samuel Barber (Vanessa), and Handel (Rinaldo), are also being followed by Ravel, Strauss and Britten.

Visit: www.glyndebourne.com/openhouse

Glyndebourne Open House festival launched last Sunday with the Open House Opening Night' production of Mozart's The Marriage of Figaro.

Picture: Getty

Virtual Bayreuth Festival

New concert platform from Deutsche Grammophon, DG Stage, is bringing Bayreuth Festival to opera fans online this year.

Over six evenings between 25 July and 29 August, the virtual platform will showcase landmark productions from the archive of Wagner's very own opera house, including the four works originally billed for the festival's 2020 edition – Die Meistersinger von Nürnberg, Tannhäuser, Lohengrin and Der Ring des Nibelungen.

It's not over, they say, until the perfectly-formed lady sings.

Visit: bayreuth.dg-stage.com

Riga Jurmala Academy Online

Riga Jurmala Festival launched in the Latvian cities of Riga and Jūrmala last year (2019). Pianist Yuja Wang and guitarist MILOŠ were on the bill of the inaugural festival, with similarly unmissable artists slated for 2020.

Sadly, coronavirus meant the festival's second outing – which was going to see the launch of the Riga Jurmala Festival Academy as well – has had to be postponed. The Academy is launching full steam ahead, but just online instead, this summer.

Masterclasses between professional musicians and students will be taking place live on the Riga Jurmala Academy's Facebook Page, free for anyone to watch. Bavarian Radio Symphony Orchestra violinists Tobias Steymans and Julita Smoleń, and piccolo player Natalie Schwaabe, are among the top musicians leading the online sessions, as well as pianist Leif Ove Andsnes.

Visit: www.facebook.com/rigajurmalaacademy

Riga Jurmala Academy, featuring masterclasses from leading orchestral musicians, has launched online.

Picture: Riga Jurmala Festival

Cambridge Summer Music Virtual Festival

Another summer festival gone virtual this year is Cambridge Summer Music Festival, with archived performances available to view online and more updates available on its social media channels.

The festival was founded in 1979 as an organ recital series and it has since expanded to include vocal and instrumental music, from intimate solo and chamber performances to concerts of works for massed choir and orchestra.

Grange Park Opera Surrey's Found Season

"Having, sadly, lost the 2020 Season we've created a Found Season..." says Grange Park Opera, Surrey on its website. Instead of donning frocks and finery in Surrey, opera fans are invited to jump online (finery is still very much an option, of course) and watch 15 exciting performances streamed over six weeks.

Expect appearances from artists like Sir Bryn Terfel, Sir Simon Keenlyside, and Joseph Calleja – and a bonus appearance from the legend that is Joanna Lumley doing the honour of virtually cutting the ribbon for opening night (watch below).

Visit: www.grangeparkopera.co.uk