Martha Argerich
Martha Argerich was born in Buenos Aires. From the age of five, she took piano lessons with Vicenzo Scaramuzza. In 1955 she went to Europe with her family, and received tuition from Friedrich Gulda in Vienna. Following her first prizes in the piano competitions in Bolzano and Geneva in 1957, she embarked on an intensive programme of concerts. Her victory in the Chopin Competition in Warsaw in 1965 was a decisive step on her path to worldwide recognition.

At the age of 17, she accompanied the violinist Joseph Szigeti - two generations older than herself. She has toured Europe, America and Japan with Gidon Kremer and Mischa Maisky and has also recorded much of the repertory for four hands and for two pianos with the pianists Nelson Freire, Stephen Bishop-Kovacevich, Nicolas Economou and Alexandre Rabinovitch.

She appeared with Claudio Abbado and the Berlin Philharmonic at the 1992 New Year's Eve Concert with Strauss's Burleske and also at the Salzburg Festival at Easter 1993. May 1998 saw the long-awaited musical "summit meeting" between Martha Argerich, Mischa Maisky and Gidon Kremer. In March 2000 Martha Argerich gave her first great solo appearance in almost 20 years in New York's Carnegie Hall.

Martha Argerich has close ties with Deutshe Grammaphon, dating back to 1967. She has recorded prolifically during this period: solo works by Bach, Brahms, Chopin, Liszt and Schumann; concerto recordings of works by Chopin, Liszt, Ravel and Prokofiev with Claudio Abbado, Beethoven with Giuseppe Sinopoli, and Stravinsky's Les Noces with Leonard Bernstein.

Did you know?
Martha Argerich takes a great supportive interest in young artists. In November 1999 the second Martha Argerich Music Festival took place in southern Japan, with concerts and masterclasses being given not only by Martha Argerich but also by Mischa Maisky and Nelson Freire among others.
View more
Best Martha Argerich recordings
Le Carnaval des Animaux (Le Cygne)
Camille Saint-Saëns
Piano Concerto No.1 in E minor Opus 11 (2) Frederic Chopin

Conductor: Jacek Kaspszyk

Ensemble: Orchestra of Italian Switzerland

Soloists: Martha Argerich

Record label: EMI Classics

Catalogue ID: 50999 07083624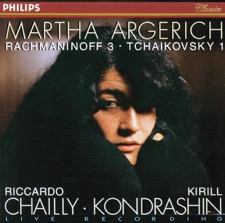 Piano Concerto No.3 in D minor Opus 30 (1) Sergei Rachmaninov (1873-1943 : Russia)

Conductor: Riccardo Chailly

Ensemble: Berlin Radio Symphony Orchestra

Soloists: Martha Argerich

Record label: PHILIPS