Glyndebourne cancels 2020 festival, but we're working with them to bring you virtual operas
7 May 2020, 13:19 | Updated: 7 May 2020, 13:21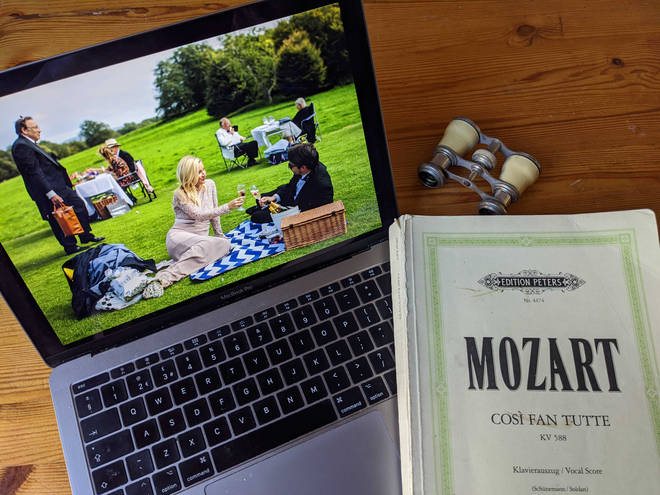 Dig out your favourite picnic basket, don your best outfit and pour the fizz – Glyndebourne is bringing the magic of opera direct to your home.
Glyndebourne has announced that it will be closing its doors due to the coronavirus pandemic – but fear not opera fans as now, you can enjoy your favourite productions from the comfort of your living room or back garden.
Despite cancelling all its remaining Festival 2020 performances – a necessary move to ensure the safety of its staff and audiences – one of the world's best-loved opera houses is introducing its first ever virtual festival: Glyndebourne Open House.
Set to launch on Sunday 24 May, the exciting initiative will bring the magic of opera direct to people's homes by streaming a free, full-length show via Glyndebourne's YouTube channel every Sunday at 5pm.
Read more: Austria's Brucknerhaus Linz set to reopen with a series of summer concerts >
The festivities will commence with Michael Grandage's epic 'Open House Opening Night' production of Mozart's The Marriage of Figaro.
And during the second two weeks, Glyndebourne will be partnering with us here at Classic FM to stream Jonathan Kent's adaptation of Mozart's Don Giovanni and Nicholas Hytner's take on melodramatic comedy Così fan tutte, – both of which will be available to watch via the Classic FM Facebook Page.
But of course, no opera festival would be complete without delicious food and spectacular attire, so organisers are also encouraging viewers to dress up and join them for a live 'Glyndebourne Open House Picnic' cookery demo on Saturday 23 May.
Stephen Langridge, Glyndebourne's Artistic Director, says: "We remain determined to share world-class opera with the public this summer; so, while the pandemic has forced us to abandon our beautiful theatre for now, I am delighted to be able to announce Glyndebourne Open House, beaming great music and theatre direct to people's homes.
"For Glyndebourne itself, however, the impact of the COVID-19 pandemic will be devastating. As a privately funded charity that receives no public subsidy for the Festival, we are reliant on Box Office income. For our artists and seasonal staff, this means the loss of their livelihoods. Your donations will help us to support them and ensure Glyndebourne's future for everyone."
Robin Ticciati, Glyndebourne's music director, added: "While it is heart-breaking not being able to perform live for our audiences this summer, I have such hope for what we will all feel as a community when we emerge from this troubled time. The need for live music and opera will surely burn ever brighter."
To support Glyndebourne's talented artists and seasonal staff, which make up two-thirds of its workforce, you can donate to the Glyndebourne Emergency COVID-19 Appeal via glyndebourne.com.
Watch Don Giovanni and Cosí fan tutti via the Classic FM Facebook Page at 5pm BST on Sunday 31 May and Sunday 7 June respectively.