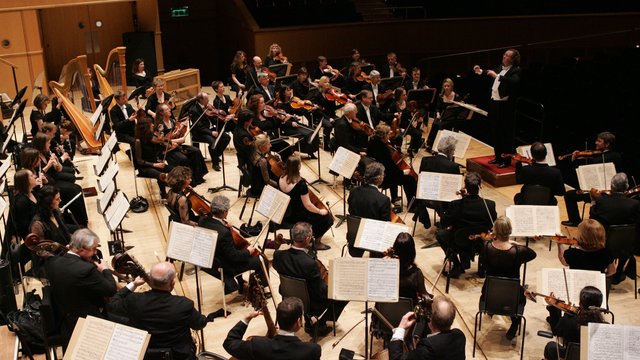 Royal Scottish National Orchestra
Formed in 1891 as the Scottish Orchestra, the company became the Scottish National Orchestra in 1950, and was awarded Royal Patronage in 1977.

A host of renowned conductors has contributed to its success, including Walter Susskind, Sir Alexander Gibson, Bryden Thomson, Neeme Jarvi, Walter Weller and Alexander Lazarev.

The RSNO performs across Scotland, including seasons in Glasgow, Edinburgh, Dundee, Aberdeen, Perth and Inverness. The Orchestra has also performed at some of Europe's most important concert venues, including a concert at the world famous Théâtre des Champs-Élysées in front of over 2000 people.

The Orchestra's artistic team is led by Danish conductor Thomas Søndergård, who was appointed RSNO Music Director in 2018, having previously held the position of Principal Guest Conductor. Hong Kong-born conductor Elim Chan succeeds Søndergård as Principal Guest Conductor.

The Orchestra played at the opening ceremony of the Scottish Parliament building in October 2004, and appears regularly at the Edinburgh International Festival and the BBC London Proms.

The RSNO has a world-wide reputation for the quality of its recordings. Over 200 releases are available, including: the complete symphonies of Sibelius (Sir Alexander Gibson), Dvorák and Prokofiev (Neeme Jarvi), Nielsen and Martinu (Bryden Thomson) and Bax (David Lloyd-Jones); a complete cycle of Barber's orchestral works (Marin Alsop); and film soundtracks such as Vertigo, Star Wars, Titanic, The Magnificent Seven and The Great Escape.

In 2007 the RSNO made its first recording under Stéphane Denève - the initial instalment of a complete cycle of Roussel's major orchestral works - receiving the coveted award, the Diapason d'Or of the year for Symphonic Music. Subsequent recordings in the series have enjoyed widespread acclaim.

Did you know?

The RSNO's 2002 recording of Holst's The Planets (Lloyd-Jones) has rapidly become one of the biggest-selling classical repertoire recordings of the last decade.
View more
Discover Royal Scottish National Orchestra
Best RSNO recordings
Coronation Ode Opus 44 (1)
Edward Elgar
Adagio for Strings
Samuel Barber (1910-1981 : U.S.A)
Conductor: Marin Alsop
Ensemble: Royal Scottish National Orchestra
Record label: Warner Classics
Catalogue ID: 8559088