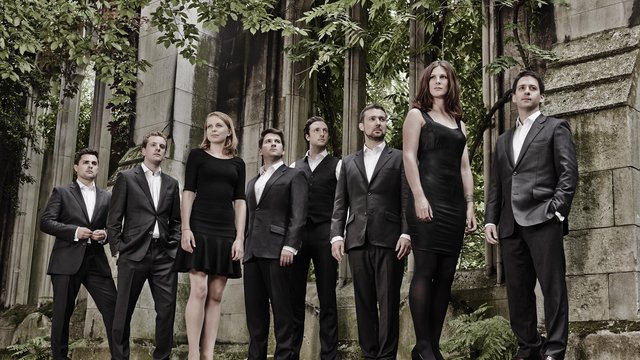 Biography
The group regularly commissions and collaborates with leading contemporary composers including Roxanna Panufnik and Ben Parry.

Every year, VOCES8 tours across Europe, the USA, Asia and Africa. The prestigious venues where they've performed include the Wigmore Hall, Royal Festival Hall, Tel Aviv Opera House, Cite de la Musique in Paris and Shanghai Concert Hall.

VOCES8 are heard regularly on international television and radio, including Deutschlandradio Kultur, ARTE TV, Radio France Musique, and Classic FM.

They have recorded a series of award-winning discs for Signum Classics, including 'Choral Tapestry', 'Bach Motets', 'Aces High' and 'Christmas'.

Outreach and Education are at the core of VOCES8's work. They are the flagship performance and education ensemble of the charitable music foundation, Voces Cantabiles Music (VCM), leading an innovative series of music education workshops reaching 20,000 people annually.

VOCES8 are the resident ensemble at Bedford School, Ardingly College, The Grey Coat Hospital and Milton Abbey.

Artistic collaborations with orchestras have included the Philharmonia, London Philharmonia Orchestra and period ensemble Les Inventions.

Did you know?

In 2013, a new book was published by Edition Peters entitled 'The VOCES8 Method'. Designed as an innovative new system to enhance neurological development and based on research by the Institute of Education, it contains group activities centred on rhythm and melody. The Method has been piloted with 100 schools in the UK and France in 2013.
View more