Belfast violinist surprises self-isolating grandad, they play a socially-distanced window duet together
7 May 2020, 11:49 | Updated: 7 May 2020, 13:25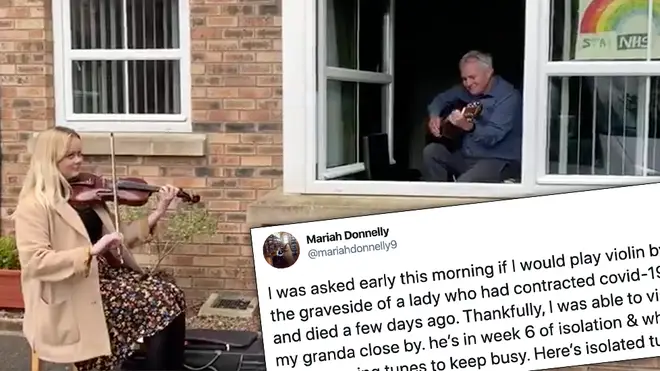 Performing within social distancing rules, granddaughter and grandfather play a heart-warming lockdown duet…
Lockdown continues in Northern Ireland, but that doesn't stop the music. After playing by the graveside of a lady who had died of COVID-19, this young Belfast violinist paid a visit to her 72-year-old grandfather nearby – and they ended up duetting together through the window.
Mariah Donnelly, 22, had posted her grandfather some sheet music for a violin and guitar duet, so he could learn his part during lockdown.
And after self-isolating for six weeks, he was finally able to make beautiful music. Together, at a safe distance from each other, Donnelly and her grandfather play 'The Mason's Apron', a traditional Irish reel (watch below).
Read more: This beautiful video combines Arvo Pärt with exquisite art >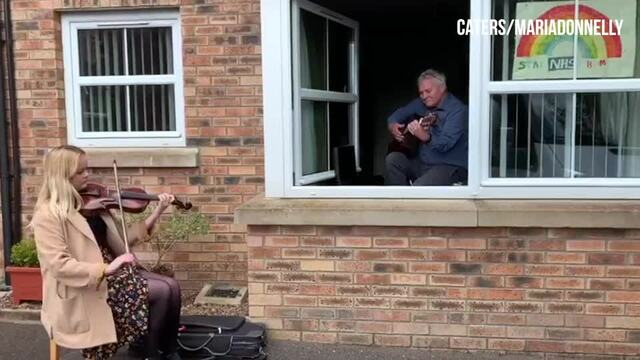 Woman Plays Violin For Her Isolated Grandad
Donnelly, who is a music teacher and legal assistant, posted the video on Twitter. She wrote: "I was asked early this morning if I would play violin by the graveside of a lady who had contracted COVID-19 and died a few days ago.
"Thankfully, I was able to visit my grandad close by. He's in week six of isolation & has been learning tunes to keep busy. Here's isolated tunes."
Thank you both, for the beautiful music.