23 times classical music embraced quarantine in the most wonderful way
30 April 2020, 16:42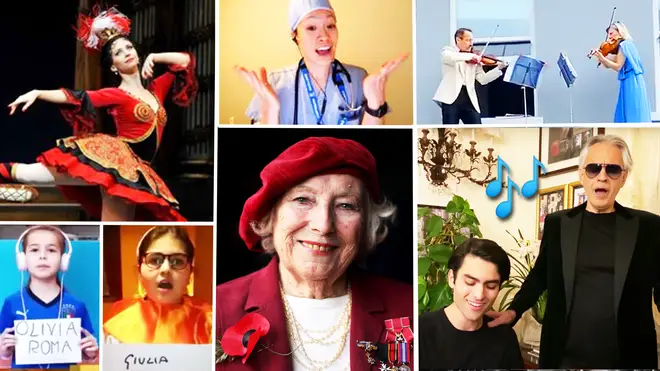 From balcony solos and isolation waltzes, to massed virtual choir performances, classical music has been here for us when we needed it most.
Whether it's a soothing melody, a humorous parody or a sneak peak at some of our favourite artists' living rooms, there's no doubt the classical music world has been providing us all with a much-needed sense of relief during the coronavirus pandemic.
We've seen some pretty wonderful displays of musicianship over the past few weeks – here are just some of the highlights...
Read more: Self-isolating choirs and orchestras are performing powerful at-home concerts during coronavirus outbreak >
Andrea Bocelli performs in Milan's empty Duomo cathedral

Watch as Andrea Bocelli sings in Milan's empty Duomo cathedral

The Italian tenor sang at the historic landmark without an audience, in a special online concert for Easter Sunday.

Neighbours perform a Titanic duet across Italy's rooftops

A spontaneous balcony duet from two self-isolating musicians, against the backdrop of Barcelona's Sagrada Familia.

Pokémon-themed performance, anyone?

Every once in a while, who doesn't love dressing up with the kids for a string quartet?

This solo alpaca punch...

Woman sings 'Vissi d'arte' from Puccini's Tosca with 3 curious alpacas

People just love to sing with their pets – and as far as this performance goes, it's *alpacappella*...

700 children come together to sing 'Nessun dorma'

Coronavirus, 'Nessun Dorma' canto di speranza: un coro di 700 bambini esegue l'aria di Puccini

Hundreds of young European singers sing Puccini's great aria of hope, in this spectacular massed virtual choir.

Alfie Boe teams up with Les Misérables supergroup

Alfie Boe joins musical theatre supergroup for song in appreciation of NHS

With a heartfelt message to "Stay at home and support the NHS so they can bring your loved ones home", West End tenor and actor, Alfie Boe, was joined by special guests to perform the Les Misérables classic, 'Bring Him Home', in a touching tribute.

Critical care nurse comforts her colleagues through song

Critical care nurse plays the piano and sings "we will rise up"

With thousands of NHS staff working around the clock to protect our loved ones, coronavirus critical care nurse, Hannah, sings a poignant cover of Andra Day's 'Rise Up' to her colleagues at Royal Papworth Hospital Charity in Cambridge.

Ravel's 'Boléro', from the National Orchestra of France

Le Boléro de Ravel par l'Orchestre national de France en #confinement #ensembleàlamaison

Orchestras have been finding new and creative ways of sharing their art – and this French ensemble hopes that Ravel's soothing music will help bring "warmth and comfort" to those in lockdown.

Local priests are playing their part...

Vicar plays trumpet at top of church tower to raise smiles in uncertain times

Because who doesn't love a brass solo high above the rooftops?

Dame Vera Lynn and Katherine Jenkins sing for the NHS

Listen to Katherine Jenkins and Vera Lynn's 'We'll Meet Again' duet in aid of NHS

Famed wartime singer Dame Vera Lynn and Welsh mezzo-soprano, Katherine Jenkins, have teamed up to perform a heartwarming duet of 'We'll Meet Again', to raise money for the UK's healthcare workers and volunteers.

Maxim Vengerov performs an exclusive live concert

Maxim Vengerov | Exclusive At-Home Concert | Classic FM Session

Classic FM's Artist in Residence, violinist Maxim Vengerov, performed an exclusive living room concert, live from Russia, featuring chamber works by Tchaikovsky, Mozart and Schubert.

When practise becomes your daily workout...

Sometimes it's just not possible to cram in practising the flute AND exercising during lockdown, so this musician is doing both at the same time.

Seven-year-old piano prodigy writes an 'Isolation Waltz'

Stelios Kerasidis plays 'Isolation Waltz'

The young Greek composer, Stelios Kerasidis, dedicated his hypnotic new piano piece "for people who suffer and isolate because of COVID-19".

Neighbours play 'Somewhere over the Rainbow' on the street

Lockdown hasn't stopped these professional musicians in Cardiff from doing what they love most.

Other neighbours are celebrating birthdays en masse

British Neighborhood Sings 'Happy Birthday' To Young Girl During Lockdown

When a young girl in Southampton turned eight during lockdown but couldn't leave her house to celebrate, her entire neighbourhood joined forces for an extra special rendition of 'Happy Birthday'.

A father and son duet from the Bocellis

Andrea & Matteo Bocelli- Fall On Me

This beautiful 'Fall On Me' duet from tenor Andrea Bocelli and his son, Matteo, was recorded live from their living room in Italy – and it's just the kind of uplifting content we all need.

Global stars sing together at Lady Gaga's Together at Home concert

Celine Dion, Andrea Bocelli, Lady Gaga, Lang Lang, John Legend perform "The Prayer" | OW:TAH

Andrea Bocelli has been pretty busy during the pandemic – this time he appeared with piano virtuoso Lang Lang, pop-soul singer John Legend, and pop icons Lady Gaga and Celine Dion in a powerful virtual rendition of 'The Prayer'.

Royal Opera House is streaming free ballet and opera online

Handel's Acis and Galatea (The Royal Opera/The Royal Ballet) #StayAtHome #OurHouseToYourHouse

Live-streamed via Facebook and the #OurHouseToYourHouse playlist on YouTube, online performances are including appearances from some of the industry's most talented ballet dancers and opera singers – and they're all completely free.

You can also watch free Andrew Lloyd Webber musicals

Andrew Lloyd Webber introduces The Show Must Go On

Musicals legend Andrew Lloyd Webber is serving up a free stream of one of his productions every week, which are available to watch for 48 hours, every Friday at 7pm, on the YouTube channel, The Show Must Go On.

There's free concerts from the Met Opera, too

Renée Fleming names the most loved soprano arias of all time

The 'Nightly Met Opera Streams' can be found at metopera.org, with each remaining available for 23 hours. On 25 April, singers gathered online for the spectacular 'At-Home Gala', with a stellar line-up featuring Renée Fleming, Sir Bryn Terfel and Jamie Barton. Other performances have included Bizet's Carmen and Puccini's La Bohème.

And who could forget this guy?

When stuck in lockdown, this operatic baritone spends his time recording perfect parodies of Rossini's 'Figaro' aria, complete with coronavirus-inspired lyrics. We stan.

Music teacher creates unexpected yet relatable quarantine song

With many music teachers taking their lessons to the Internet, this one decided to share her top tips through a song on the social media app TikTok – but things quickly take an unexpected turn...

And finally, a humorous reminder to please wash your hands...

Phoenix Chamber Choir have put a witty spin on the lyrics to one of Queen's most iconic rock songs to encourage people to keep their hands squeaky clean – and it's just perfect.