Self-isolating choirs and orchestras are performing powerful at-home concerts during coronavirus outbreak
1 April 2020, 17:36 | Updated: 1 April 2020, 17:52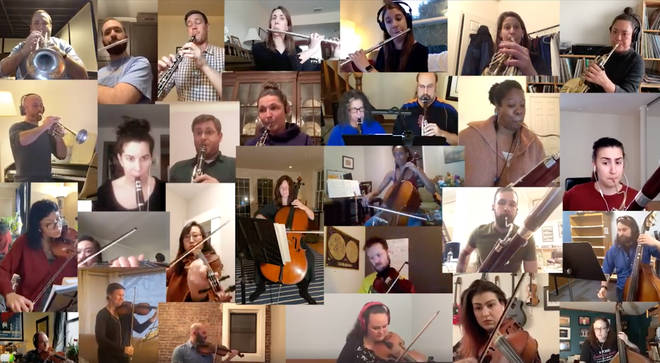 As the coronavirus pandemic continues, hundreds of performances around the world have been cancelled or postponed – but these musicians have found another way to spread joy...
As the COVID-19 crisis continues to unfold, many musicians under quarantine are gathering together to play (and sing) their favourite pieces online instead.
From peaceful springtime songs to energetic Beethoven flash mobs, here are just some of the clips that are helping to lift people's spirits.
Click here to view the NHS's latest coronavirus advice >
Beethoven's Symphony No. 9, from Socially Distant Orchestra

What can musicians do when they're quarantined / sheltering in place? They stay close through music. #FindJoy...

Posted by Filmelodic on Sunday, 22 March 2020

When Adam Grannick from classical music film company Filmelodic put out a call for any keen musicians on Facebook to play some Beethoven, it wasn't long before people all over the country registered their interest. And we have to say, they've done a stellar job!

Grieg from the Arctic Philharmonic

One of Scandinavia's finest orchestras plays Grieg's Holberg suite to warm hearts around the world. The Tromsø-based orchestra have many more inspired video projects on their YouTube channel (expect great music and ice).

Grieg - Holberg suite, kanantene-style

Kjære venner! 😊 Musikerne savner dere. Fra sine "hjemmekontorer" - og på eget initiativ - har de bestemt seg for å lage en hilsen til dere. Her er Griegs "Holberg suite", spilt uten at de ser hverandre, men sjefdirigent Christian Kluxen - Conductor gjør sitt beste for å holde styr på alle. Og, som dere ser; kunstnerisk leder for kammerorkesteret Henning Kraggerud (Official) ville også gjerne være med. Vi håper inderlig det går bra med dere alle. 🙏❤️ God fornøyelse! #norgespillervidere

Posted by Arktisk Filharmoni on Wednesday, 25 March 2020

Aaron Copland's 'Appalachian Spring', from Toronto Symphony Orchestra

"No matter what distance keeps us apart, we'll still find ways to make music together and celebrate the gifts of spring."

Burt Bacharach's 'Close To You', from Couch Choir

It took just two days for 1,000 people from 18 different countries around the world to submit a video of their performance of 'Close To You' by Burt Bacharach – and the result is just beautiful.

Beethoven's 'Ode to Joy', from Bamberger Symphoniker

A spectacular virtual performance from a world-class ensemble.

Rutter from the Girl Choristers of Holy Trinity church, Guildford

Holy Trinity is a gorgeous Georgian church in cobbled, commuter-belt Guildford. Coronavirus saw the cancellation of this year's Mothering Sunday service, but the Girl Choristers and their director Nick Graham were still determined to sing for their mums, grandmothers and everyone who needed to hear an uplifting John Rutter blessing.

Rihards Dubra's 'O Crux Ave', from Quarantine Choir

In tough times, this clip is the perfect reminder that music heals.

'It's a long time to be in lockdown', from Homechoir

For some musicians, being under quarantine seems to be bringing out their creative side more than ever. This guy's 'home choir' lyrics go: 'Pack up your loo roll and yer tin of Spam and quarantine, self-isolation from your fellow man and keep your hands clean!' A surefire classic.

A pop medley, from Down's Syndrome Oxford Choir

Downs Syndrome Oxford choir sing together.

Picture: Oxford Mail

The choir gave a touching performance of ABBA and a song from The Greatest Showman. Music is for everyone. ❤️

'You're the Voice', from Perpetuum Jazzile choir

To prepare for their performance, the Perpetuum Jazzile choir spent three days using mobile phones to combine their audio and video footage. Now, they hope to connect others in self-isolation and inspire them through music.

Arvo Pärt's 'Da Pacem Domine', from Cello Octet Amsterdam

A soothing rendition of 'Da Pacem Domine', arranged by Arvo Pärt for Cello Octet Amsterdam.

'Holberg suite', from Arktisk Filharmoni

These talented musicians might not be able to see each other, but with conductor Christian Kluxen leading the way we're treated to another impressive virtual performance.

Beethoven's 'Ode to Joy', from The Symphonic Orchestra of Castille and Leon

Despite being in self-isolation, this Spanish orchestra managed to find a way to play together – and the outcome is beautiful.

Ravel's 'Boléro', from The West Australian Symphony Orchestra

Simon Kruit arranged Ravel's classic 'Boléro' with the help of double bass player John Keene. West Australian Symphony Orchestra musicians recorded their parts separately and the clips were later edited together into this fun montage.

Dvořák's 'New World' Symphony, by Socially Distant Orchestra

Czech composer Dvořák wrote this beautiful Symphony in 1893 – and now, it's been reimagined as a virtual masterpiece by Filmelodic.

Mahler's Symphony No. 1, Movement 2, from NYYS Orchestra

Led by Michael Repper, The New York Youth Symphony was forced to cancel its spring concert at Carnegie Hall. In a moving display of hope however, 71 members of the orchestra came together virtually to perform this uplifting movement, 'Titan', from Mahler's Symphony No. 1.

'All I Ask Of You', from Andrew Lloyd Webber and Phantom London Orchestra

Even a lockdown won't stop the music of the night...

Ravel's 'Boléro', from the National Orchestra of France

The orchestra hopes that Ravel's soothing music will help bring "warmth and comfort" to those in lockdown.

'Bring Him Home', from Alfie Boe and The Barricade Boys

With a heartfelt message to "Stay at home and support the NHS so they can bring your loved ones home", The Barricade Boys joined forces with former cast members of Les Misérables (Alfie Boe, Ramin Karimloo, John Owen-Jones, David Shannon, Alistair Brammer, Fra Fee, Rob Houchen) for this stunning at-home performance.

'Where Have All The Flowers Gone?', from Thomas Guthrie and friends

Artistic Director of Music and Theatre for All, Thomas Guthrie, and 116 of his friends and colleagues from the music business all over the world, created this heart-warming film to raise funds for Help Musicians.

Mendelssohn's Italian Symphony, from Intercontinental Ensemble

Based in Amsterdam, this chamber music ensemble said they "felt bored to play alone", so found a new (virtual) way of playing Mendelssohn together.

Beethoven's Symphony No. 9, from Rotterdam Philharmonic Orchestra

"From us, for you" – this wonderful Dutch orchestra came together to perform a virtual concert for their followers amid the coronavirus pandemic.

Read more: The best classical music being streamed online during the coronavirus outbreak >