Self-isolating choirs and orchestras are performing powerful at-home concerts during coronavirus outbreak
11 May 2020, 16:32 | Updated: 11 May 2020, 16:36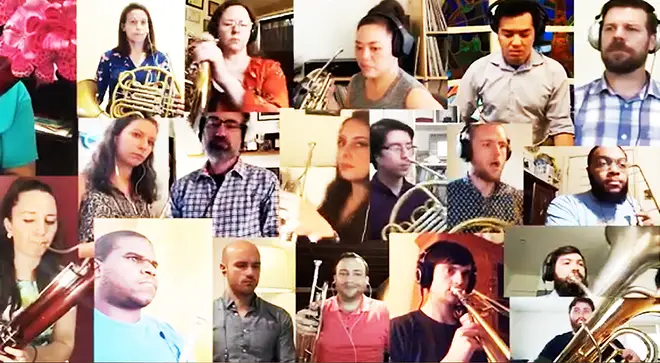 Hundreds of performances around the world have been cancelled or postponed – but these musicians have found another way to spread joy...
As the COVID-19 crisis continues to unfold, many musicians under quarantine are gathering together to play (and sing) their favourite pieces online instead.
From peaceful springtime songs to energetic Beethoven flash mobs, here are just some of the clips that are helping to lift people's spirits.
Click here to view the NHS's latest coronavirus advice >
Beethoven's Symphony No. 9, from Socially Distant Orchestra

What can musicians do when they're quarantined / sheltering in place? They stay close through music. #FindJoy...

Posted by Filmelodic on Sunday, 22 March 2020

When Adam Grannick from classical music film company Filmelodic put out a call for any keen musicians on Facebook to play some Beethoven, it wasn't long before people all over the country registered their interest. And we have to say, they've done a stellar job!

Grieg from the Arctic Philharmonic

One of Scandinavia's finest orchestras plays Grieg's Holberg suite to warm hearts around the world. The Tromsø-based orchestra have many more inspired video projects on their YouTube channel (expect great music and ice).

Grieg - Holberg suite, kanantene-style

Kjære venner! 😊 Musikerne savner dere. Fra sine "hjemmekontorer" - og på eget initiativ - har de bestemt seg for å lage en hilsen til dere. Her er Griegs "Holberg suite", spilt uten at de ser hverandre, men sjefdirigent Christian Kluxen - Conductor gjør sitt beste for å holde styr på alle. Og, som dere ser; kunstnerisk leder for kammerorkesteret Henning Kraggerud (Official) ville også gjerne være med. Vi håper inderlig det går bra med dere alle. 🙏❤️ God fornøyelse! #norgespillervidere

Posted by Arktisk Filharmoni on Wednesday, 25 March 2020

Aaron Copland's 'Appalachian Spring', from Toronto Symphony Orchestra

"No matter what distance keeps us apart, we'll still find ways to make music together and celebrate the gifts of spring."

Burt Bacharach's 'Close To You', from Couch Choir

Couch Choir - (They Long To Be) Close To You

It took just two days for 1,000 people from 18 different countries around the world to submit a video of their performance of 'Close To You' by Burt Bacharach – and the result is just beautiful.

Fatboy Slim's 'Praise You', by Some (Virtual) Voices

Some Voices presents 'Social Distant Sing'

Led by London-based musical directors, Laura Howe and Curtis Stansfield, hundreds of members of Some Voices teamed up to put together this uplifting choir performance of Fatboy Slim's chart-topping anthem 'Praise You', with a few other melodic gems thrown in for good measure. The colourful clip was released in aid of CALM (Campaign Against Living Miserably), and is spreading some much-needed joy through singing, community and bringing people together.

Beethoven's 'Ode to Joy', from Bamberger Symphoniker

A spectacular virtual performance from a world-class ensemble.

Rutter from the Girl Choristers of Holy Trinity church, Guildford

Holy Trinity is a gorgeous Georgian church in cobbled, commuter-belt Guildford. Coronavirus saw the cancellation of this year's Mothering Sunday service, but the Girl Choristers and their director Nick Graham were still determined to sing for their mums, grandmothers and everyone who needed to hear an uplifting John Rutter blessing.

The (Virtual) Girl Choristers of HT Guildford sing Rutter's A Clare Benediction

Rihards Dubra's 'O Crux Ave', from Quarantine Choir

Quarantine Choir - O Crux Ave (R. Dubra)

In tough times, this clip is the perfect reminder that music heals.

'It's a long time to be in lockdown', from Homechoir

It's A Long Time To Be In Lockdown

For some musicians, being under quarantine seems to be bringing out their creative side more than ever. This guy's 'home choir' lyrics go: 'Pack up your loo roll and yer tin of Spam and quarantine, self-isolation from your fellow man and keep your hands clean!' A surefire classic.

A pop medley, from Down's Syndrome Oxford Choir

Downs Syndrome Oxford choir sing together.

Picture: Oxford Mail

The choir gave a touching performance of ABBA and a song from The Greatest Showman. Music is for everyone. ❤️

'You're the Voice', from Perpetuum Jazzile choir

Creative: 37 Singers' STAY-AT-HOME Shout Out!

To prepare for their performance, the Perpetuum Jazzile choir spent three days using mobile phones to combine their audio and video footage. Now, they hope to connect others in self-isolation and inspire them through music.

Arvo Pärt's 'Da Pacem Domine', from Cello Octet Amsterdam

#AloneTogether - Arvo Pärt by Cello Octet Amsterdam in self-isolation

A soothing rendition of 'Da Pacem Domine', arranged by Arvo Pärt for Cello Octet Amsterdam.

'Holberg suite', from Arktisk Filharmoni

These talented musicians might not be able to see each other, but with conductor Christian Kluxen leading the way we're treated to another impressive virtual performance.

Beethoven's 'Ode to Joy', from The Symphonic Orchestra of Castille and Leon

Músicos de la OSCyL interpretan el Himno a la Alegría desde el confinamiento

Despite being in self-isolation, this Spanish orchestra managed to find a way to play together – and the outcome is beautiful.

Ravel's 'Boléro', from The West Australian Symphony Orchestra

Simon Kruit arranged Ravel's classic 'Boléro' with the help of double bass player John Keene. West Australian Symphony Orchestra musicians recorded their parts separately and the clips were later edited together into this fun montage.

Dvořák's 'New World' Symphony, by Socially Distant Orchestra

Czech composer Dvořák wrote this beautiful Symphony in 1893 – and now, it's been reimagined as a virtual masterpiece by Filmelodic.

Mahler's Symphony No. 1, Movement 2, from NYYS Orchestra

NYYS Orchestra | Michael Repper, Music Director | Mahler: Symphony No. 1, Mvmnt 2

Led by Michael Repper, The New York Youth Symphony was forced to cancel its spring concert at Carnegie Hall. In a moving display of hope however, 71 members of the orchestra came together virtually to perform this uplifting movement, 'Titan', from Mahler's Symphony No. 1.

'All I Ask Of You', from Andrew Lloyd Webber and Phantom London Orchestra

All I Ask Of You | Phantom London Orchestra

Even a lockdown won't stop the music of the night...

Ravel's 'Boléro', from the National Orchestra of France

Le Boléro de Ravel par l'Orchestre national de France en #confinement #ensembleàlamaison

The orchestra hopes that Ravel's soothing music will help bring "warmth and comfort" to those in lockdown.

'Bring Him Home', from Alfie Boe and The Barricade Boys

Alfie Boe, Ramin Karimloo, John Owen-Jones + more sing BRING HIM HOME from Les Mis to support NHS

With a heartfelt message to "Stay at home and support the NHS so they can bring your loved ones home", The Barricade Boys joined forces with former cast members of Les Misérables (Alfie Boe, Ramin Karimloo, John Owen-Jones, David Shannon, Alistair Brammer, Fra Fee, Rob Houchen) for this stunning at-home performance.

'Where Have All The Flowers Gone?', from Thomas Guthrie and friends

Where Have All The Flowers Gone for HELP MUSICIANS

Artistic Director of Music and Theatre for All, Thomas Guthrie, and 116 of his friends and colleagues from the music business all over the world, created this heart-warming film to raise funds for Help Musicians.

Mendelssohn's Italian Symphony, from Intercontinental Ensemble

Mendelssohn Home Alone (Corona-Version)

Based in Amsterdam, this chamber music ensemble said they "felt bored to play alone", so found a new (virtual) way of playing Mendelssohn together.

Dvořák's 'New World' Symphony, from Qatar Philharmonic Orchestra

Qatar Philharmonic Orchestra perform from home

The 101-player orchestra's home is usually the Opera House at Qatar's Katara Cultural Village – but now its members have teamed up to play Dvořák's Symphony No. 9 in E minor from the comfort of their own homes.

Puccini's 'Nessun dorma', from 700 European children

Coronavirus, 'Nessun Dorma' canto di speranza: un coro di 700 bambini esegue l'aria di Puccini

In a poignant message of hope and love, 700 children from Italy and Europe have come together to form a massed virtual choir. The wonderful initiative was launched by children's charity, Europa InCanto, which helps to connect children aged 4-13 with opera and musical theatre.

Handel's 'Hallelujah Chorus', from Clara Choir

Handel composed his rousing 'Hallelujah Chorus' as part of his famous 1741 oratorio, Messiah – and the spectacular song is just as uplifting today as it was then.

Handel's 'Hallelujah Chorus', from Royal Choral Society

ROYAL CHORAL SOCIETY: Hallelujah Chorus in Isolation #Messiah2020 #RoyalAlbertHome

This special performance sees 82 members of the Royal Choral Society singing from their own homes as conductor Richard Cooke joins from his garden, and Richard Pearce – regular organist for the Last Night of the Proms – provides accompaniment.

Tchaikovsky's '1812 Overture', from Socially Distant Orchestra

Another belter from Filmelodic, as the musical ensemble performs a tribute to all first responders and essential workers during the coronavirus pandemic.

'Amazing Grace', from Stamford Symphony Orchestra

'Amazing Grace' by Stamford Symphony Orchestra

Members of Stamford Symphony Orchestra are dedicating this sweet-sounding rendition of the well known hymn to those working on the frontline in Fairfield County as they endeavour to protect our loved ones.

DiLorenzo's 'Anthem of Hope', from ROCO

Virtually Together: ROCO's Anthem of Hope

In honour of the first responders and heroes of the COVID-19 crisis, the musicians of ROCO have come together virtually from across the U.S. and Canada to perform 'Anthem of Hope' by Anthony DiLorenzo – offering hope and strength during this difficult time.

'Stone at the Edge of the Stream', from Chromas Choir

This incredible performance from a Turkish choir was put together using videos from 360 participants in 14 different countries and 61 cities – a stellar effort!

Jess Glynn's 'I'll Be There', from Harwich Sing Nexgen

The members of Harwich Sing Nexgen, young singers aged 12 to 21 from Harwich Sing Tendring Voices, have come together virtually to perform this uplifting pop hit by Jess Glynn as a tribute to the NHS's key workers. Clare Leach, 42, the founder of Harwich Sing, told The Gazette News: "The NHS and key workers are all so busy doing their best for our community and society, we are all so grateful to them!"

Beethoven's Symphony No. 9, from Rotterdam Philharmonic Orchestra

"From us, for you" – this wonderful Dutch orchestra came together to perform a virtual concert for their followers amid the coronavirus pandemic.


Coldplay's 'Fix You', ft. Manchester choirs, Kerry Ellis and Tony Walsh

Choir performs Fix You ft. Kerry Ellis & Tony Walsh in Memory of the Health Workers we Have Lost

Some of Manchester's best choirs teamed up with musical theatre singer, Kerry Ellis, and poet, Tony Walsh, to record a heartwarming version of Coldplay's 'Fix You' for the NHS, paying tribute to those who have lost their lives to COVID-19. The Choir Project MCR brought together members of Northenden Community Choir, the RNCM and Deloitte staff choirs to complete the piece.

'Adagietto' from Mahler's Symphony No. 5

"Adagietto" from Mahler's Symphony No. 5 — Thank you, New York

Members of the New York Philharmonic joined forces for this soothing virtual performance of 'Adagietto', taken from Mahler's spectacular Symphony No. 5, which was created in honour of New York.

The 'Intermezzo' from Cavalleria Rusticana, from The Met Opera

A stunning recording from members of The Met Opera as part of their recent 'At-Home Gala', which they hope will bring "some much-needed light to your day".

Eric Idle's 'Always Look on the Bright Side of Life', from Le Off

Nine musicians from the Orchestre de Paris perform 'Always Look On The Bright Side Of Life'

Arranged by David Gaillard, nine musicians from the Orchestre de Paris recorded this cheery rendition of Eric Idle's popular tune, which originally found its fame after featuring on the soundtrack for the 1979 movie, Monty Python's Life of Brian.

Stravinsky's 'The Rite of Spring', from Filmelodic

Be wild. Be loud. Be responsibly socially distant, but be connected through music. (You're going to want to watch this...

Posted by Filmelodic on Sunday, 3 May 2020

A rousing musical excerpt from Russian composer Igor Stravinsky's 1913 work, 'The Rite of Spring', featuring dance improvisation guidelines by Elena Hecht and Elise Walters.

Electric Light Orchestra's 'Mr. Blue Sky', from Acquire

Featuring the voices of Glasgow-based musical theatre choir, Acquire, Electric Light Orchestra's '70s classic has been thoughtfully arranged by Dan Glover in this toe-tapping cover. The ensemble had originally planned to sing the uplifting tune at the wedding of Ami Duncan, the choir's founding member, but the event was sadly cancelled due to COVID-19. Thanks to this virtual performance however, their efforts haven't gone to waste. Bravo!

Beethoven's Symphony No. 9, from The Rotterdam Philharmonic Orchestra

To pull off this rousing social distancing performance of Beethoven's Ninth, the orchestra collaborated with Dutch Healthcare organisation Senior Service – and just wait for that finale!
Read more: The best classical music being streamed online during the coronavirus outbreak >