Quarantined musical neighbours take to the street for 'Somewhere over the Rainbow' tribute to the NHS
14 April 2020, 14:48 | Updated: 14 April 2020, 15:30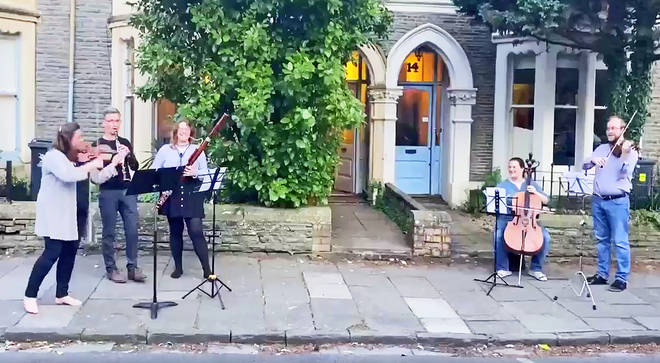 Lockdown hasn't stopped these professional musicians from doing what they love.
As thousands of NHS heroes continue to work on the frontline amid the coronavirus pandemic, an ensemble of neighbours in Cardiff has teamed up to perform a powerful musical tribute.
Usually, the musicians can be found on stage at some of the world's most prestigious venues – but stuck in quarantine, they decided to rehearse through a hole in their garden fence instead.
The result was this video (watch below), in which the Teilo Street residents come together outside their homes to play a heartwarming rendition of 'Somewhere Over The Rainbow' – the Harold Arlen classic written for the 1939 film, The Wizard of Oz.
It's a fitting choice to accompany the drawings of rainbows children around the country have been creating and displaying for hardworking hospital staff.
Click here to view the NHS's latest coronavirus advice >
The musical collective is made up of Robert Plane, clarinet section principal at the BBC National Orchestra of Wales, his wife Lucy Gould, who is a violinist with the Chamber Orchestra of Europe and their daughter Florence, who studies bassoon at the Royal Academy of Music.
And it doesn't stop there. They happen to live next door to Rosie Biss, principal cellist at Welsh National Opera and her husband Andre Swanepoel, who is a violinist in the Irish Chamber Orchestra.
Their moving display went down a treat with their audience on the street – which included a frontline NHS worker who had just returned from a busy shift. Lots of people have taken to Twitter to express gratitude for the recital:
Beautiful. The bird song is the icing on the cake ❤

— Vicky Hartigan (@VittysCardigan) April 9, 2020
Brava! We oboists are a rare breed!

— KatyJB-R (@KatyJBR1) April 12, 2020
Sharing his thoughts on the performance, Swanepoel told Wales Online: "It's amazing how live music lifts people's spirits. It really seems people want to hear music at the moment. It's wonderful and totally by chance that we ended up living next door to each other so that we are able to do this.
"It was tricky practising through a hole in the fence and we were four or five metres apart. We have all done some interesting things over the years but this was special. We did this in support of the NHS. We will do something again."
What a magnificent effort all round!