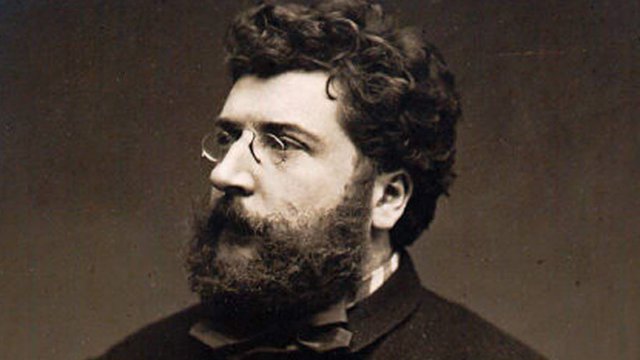 Georges Bizet (1838–1875)
Born in Paris, the son of professional musicians, Bizet was just a few days short of his 10th birthday when he entered the Paris Conservatoire.

At the age of 17 he produced his spontaneously assured C major Symphony.

Bizet's studenthood was littered with prizes, including the Prix de Rome. As a result, he was based in the Italian capital from 1857-60, where he completed a two-act opera buffa, Don Procopio (not heard until 1906), and a Te Deum.

In 1861 he produced an overture, La Chasse d'Ossian (which remains officially 'lost' - possibly destroyed by Bizet himself), and the following year a one-act opera, La Guzla de l'Emir, which he promptly withdrew and destroyed before it could go into production.

Brilliant with melody and colour, Bizet instinctively composed with the dramatic conciseness of his idols - Beethoven, Mozart and Mendelssohn.

In 1863, Bizet produced his finest effort since the C major Symphony some eight years earlier - the opera Les Pecheurs de Perles (The Pearl Fishers), but made little impression on the music world.

He achieved popular success with Carmen, although full recognition of its greatness was to follow only after his premature death.

Bizet died from a massive heart attack three months after the premiere of Carmen, at the age of 36. His prediction that "in order to succeed today you have to be either German or dead" turned out, in one respect, to be tragically prophetic.

Did you know?

Liszt declared Bizet as one of the three greatest pianists in Europe. Despite the distracting temptation to seek his fortune as a travelling virtuoso, Bizet's sights remained firmly set on a composing career.
View more
Top Bizet pieces
Carmen - Habanera Georges Bizet (1838-1875 : France)

Conductor: Michel Plasson

Ensemble: Orchestre National du Capitole de Toulouse

Soloists: Angela Gheorghiu

Record label: EMI

Catalogue ID: 5574342
L'Arlesienne Suite No.1 (1)
Georges Bizet (1838-1875 : France)
Conductor: Marc Minkowski
Ensemble: Les Musiciens du Louvre
Record label: Naive
Catalogue ID: V 5130
Pearl Fishers - Duet Georges Bizet (1838-1875 : France)

Conductor: Barry Wordsworth

Ensemble: London Symphony Orchestra

Soloists: Bryn Terfel; Andrea Bocelli

Record label: Deutsche Grammophon

Catalogue ID: 4775125
Most shared Bizet features