Choir's coronavirus spin on Queen's 'Bohemian Rhapsody' is the parody we all need
17 April 2020, 10:03 | Updated: 17 April 2020, 10:06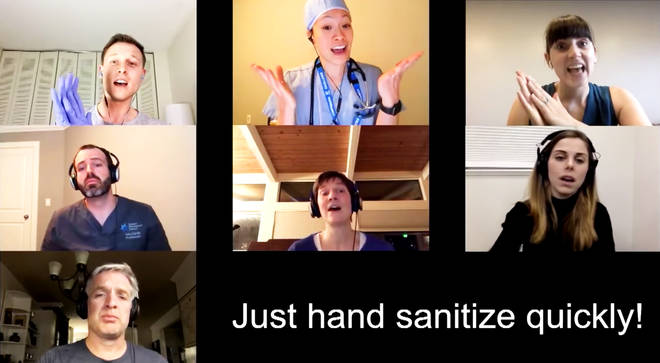 "Don't touch your eyes, just hand sanitise quickly..."
A choir in Vancouver, Canada has gone viral with its brilliant quarantine parody version of Queen's 'Bohemian Rhapsody'.
In a musical reminder for people to wash their hands, the self-isolating Phoenix Chamber Choir put their own witty spin on the lyrics to the iconic rock song.
In the video (watch below), we see the singers – some of whom have admirably dug out their doctors costumes for the occasion – pop up on screen as they begin to warble the words to the re-imagined intro:
"Is this a sore throat? Is this just allergies? Caught in a lockdown, no escape from reality. Don't touch your eyes, just hand sanitise quickly!"
Click here for the latest coronavirus advice from the NHS >
It's surely enough to make music-lovers grab a bar of soap and rush for the nearest sink.
And who could forget that operatic section of the undeniably catchy song?
Not this choir – but instead of hearing Freddie Mercury et al's famous falsetto, the ensemble sings: "Security is tightening! Very very frightening me! Gotta lay low! Gotta lay low! We missed our show."
Read more: Young UK musicians invite the world to a massed 'Ode to Joy' >
With the whole world seemingly on hold, the virtual performance is just the kind of lighthearted relief we all need right now.
Thanks to the Phoenix Chamber Choir for providing us with a much-needed chuckle...