Meet Jamie Barton, "opera's nose-studded rock star"
11 September 2019, 11:17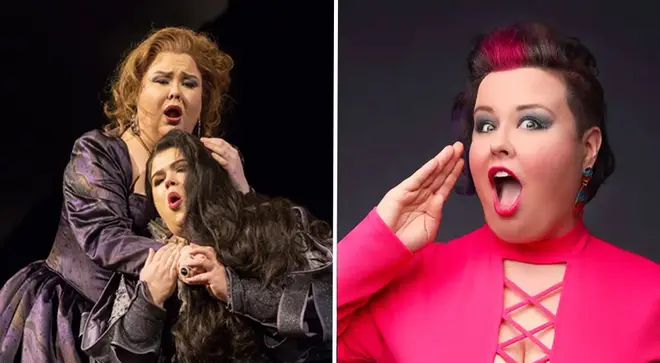 The multi-award-winning mezzo-soprano is proving to be a force for good in the opera world – here's everything you need to know about her incredible voice and inspirational work.
If there's one mezzo-soprano you need on your radar this year, it's American international opera singer, Jamie Barton.
The quirky star has not only established herself as one of opera's most exciting young artists, with her velvety rich tone and commanding presence, but also as a role model for those experiencing body shaming or issues over their sexuality.
The New York Times has described her as having "innate charm and communicative urgency radiated through her amber-hued voice and warm, Mona Lisa-smile directly to the audience."
Writing for his music blog, The Rest Is Noise, music critic Alex Ross added: "She is a fresh wonder of the opera world, possessing a voice of preternatural beauty and power.
"She has a remarkable ability to keep the vocal line afloat amid pauses for breath; she'd swell on a note, take a breath, and then resume at even greater volume, tricking the ear into thinking that the phrase had never been broken."
Jamie Barton - O mon Fernand (Donizetti: La Favorite - NY 2012)
Who is Jamie Barton?
Born in Rome, Georgia (US), on October 17 1981, Jamie Barton's musical streak stood out from an early age, and after graduating from Armuchee High School in Georgia, she started her vocal studies at Shorter College, part of Indiana University Jacobs School of Music.
She continued on to Houston Grand Opera Studio, Aspen Musical Festival and School, and later became a Tanglewood Vocal Fellow and Gerdine Young Artist at the Opera Theatre of St. Louis.
Her many career highlights include singing "The Star-Spangled Banner" for Macy's annual 4th of July fireworks display, performing at 80th birthday galas for Sherrill Milnes and Marilyn Horne, and debuting a new work at Tanglewood with Yo-Yo Ma, Emanuel Ax and Colin Jacobsen.
She has also won several awards, including two prizes for the 2013 Cardiff Singer of the World, the 2014 International Opera Award (Young Singer) and the 2017 Beverly Sills Artist Award.
How many recordings has Jamie Barton released?
Barton's first recording, André Previn - Brief Encounter, was released on Deutsche Grammophon in 2011, and features soprano Elizabeth Futral, baritones Nathan Gunn and Kim Josephson, and conductor of Houston Grand Opera, Patrick Summers.
In 2014, she released An Aids Quilt Songbook: Sing for Hope, a stellar collaboration with cellist Yo-Yo Ma, fellow mezzos Joyce DiDonato and Isabel Leonard, and actress Sharon Stone, performing the spoken word.
Most recently, Barton featured on Delos Music's All Who Wander, with pianist Brian Zeger, featuring a program of late-Romantic repertoire – including eight of Gustav Mahler's lieder and Antonin Dvořák's song cycle, Gypsy Songs.
What is a mezzo-soprano?
A mezzo singer, meaning 'middle' in Italian, is the middle range for a female singer.
Their voices are often described as being dark, round and full of colour, with a typical range between A3 (the A below middle C) and A5 (two octaves higher), but they can sometimes sing high notes too.
Generally, there are three recognised sub-categories: lyric, dramatic and coloratura.
In opera, while the soprano tends to play the leading lady or heroine, the mezzo is usually a supporting role, such as a young boy, maid or family member.
What's the difference between a soprano and a mezzo? >
What performances does Jamie Barton have coming up?
You can catch Barton singing across the globe on her feminist recital tour with Kathleen Kelly – which is heading to London, Atlanta and San Francisco.
Barton is open about both feminism and her sexuality. She recently told The Guardian, "It's 50 years since the anniversary of Stonewall. It's so important for me to stand up proudly as a bisexual woman."
Speaking about planned concert attire, she said: "What I can tell you is that the main colour of the dress will be pewter, with a cape element, a bubble sleeve – and a reveal! That idea of reveal is very much part of queer culture, and drag. It's a way of saying this is who I am."
Barton also debuts as Léonor in La favorite at Houston Grand Opera this year.
Visit jamiebartonmezzo.com to find out more.