Watch Andrew Lloyd Webber musicals for free during coronavirus closures
14 May 2020, 18:05
As West End and Broadway theatres bring the curtain down to slow the spread of coronavirus, musicals legend Andrew Lloyd Webber is serving up a free stream of one of his productions every week.
Andrew Lloyd Webber is streaming a production of one of his musicals on YouTube every week, during coronavirus theatre closures. Find out about the most recent shows on this page!
Which Andrew Lloyd Webber musical is on tonight?
On Friday (15 May), a filmed version of the iconic 1999 stage production of Cats, starring Elaine Paige, John Partridge, Jacob Brent, Jason Gardiner and Sir John Mills, will be released for free.
The London production ran for 21 years, making it the sixth-longest running West End show.
Cats will be available to watch on the YouTube channel The Shows Must Go On from Friday 15 May at 7pm BST, where it will be available for 24 hours in the UK but 48 hours elsewhere.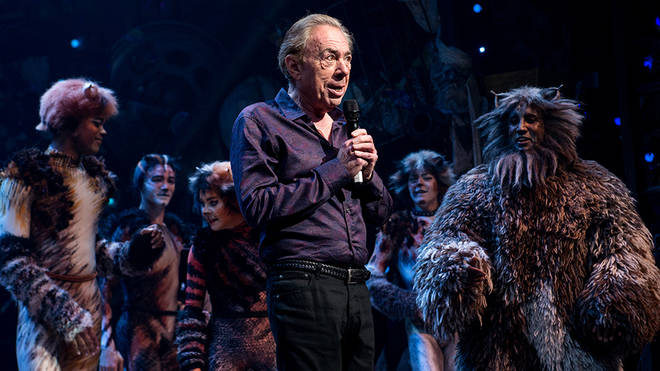 Which musicals have already been streamed?
Millions of viewers have been flocking to YouTube every Friday for these free musical streams.
The last in the series was Lloyd Webber's 50th birthday concert from 1998 starring Michael Ball, Glenn Close, Sarah Brightman, Elaine Page and Antonio Banderas, who came together at the Royal Albert Hall to pay tribute to the composer.
Before that we saw Love Never Dies, the sequel to The Phantom of the Opera, which streamed the weekend before. The 25th anniversary special from the Royal Albert Hall, starring Ramin Karimloo as the Phantom and Sierra Boggess as Christine, was the biggest yet in the composer's online series, with 11 million people watching.
The first in the series was the composer's 2000 production of Joseph and the Technicolour Dreamcoat starring Donny Osmond, Joan Collins and Richard Attenborough. It was followed the week after by the 2012 production of Jesus Christ Superstar, starring Tim Minchin, Mel C. and Chris Moyles.
Read more: Phantom of the Opera orchestra records 'All I Ask of You' for Andrew Lloyd Webber >
As theatres around the world close to slow the spread of coronavirus, performers and musicians have been moving their art online.
A few weeks ago, the orchestra from the West End's Phantom of the Opera recorded a virtual performance of 'All I Ask of You' alongside composer Lloyd Webber, after seeing a tweet from the composer playing the song in quarantine (watch above).
While The Shows Must Go On is a free service, Lloyd Webber encourages anyone who is able to donate to a charity that provides support to theatre workers in times of need. He suggests Acting For Others, Broadway Cares and the Actors Benevolent Fund.