We looked at the vocal ranges of these iconic singers — and they're really impressive
12 April 2019, 17:34 | Updated: 13 April 2019, 09:41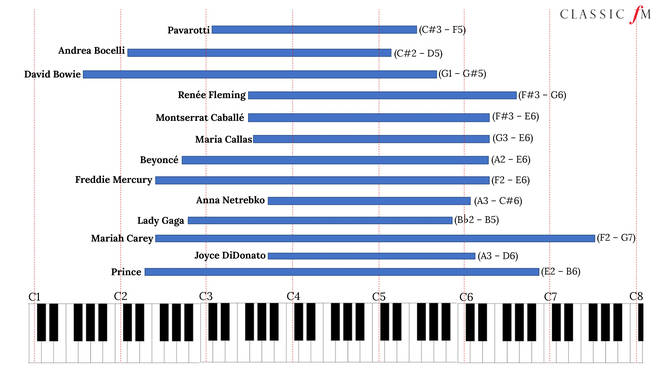 From Pavarotti to Prince, some of these musicians' vocal ranges span a spectacular four octaves.
A middle C on the piano can also be described as a C4 – and any number above or below that measures an octave. So, a C3 would be an octave below C4, while C5 would be an octave above.
That considered, the vocal ranges seen here are nothing short of a miracle.
Pavarotti is hailed as the world's greatest tenor, and his impressive vocal range proves just that. In his prime, the larger-than-life tenor could hit an F5 – that's an octave and a half above middle C.
Then, there are those of musicians from the pop world. While David Bowie and Freddie Mercury both had ranges spanning four octaves, Prince could hit a gobsmacking B6.
Beyoncé isn't far off that either, with a versatile range starting at A2 and hitting E6. Plus, Lady Gaga's earthy lower register allows her to hit a B flat 5.
As heavenly and awe-inspiring as the high notes are, let's not forget the lower register. Montserrat Caballé and Renée Fleming, for instance, can both reach an F sharp 3. Montserrat Caballé hits this note in Strauss' opera Salome.
But it's Mariah Carey who takes the prize for the largest vocal range of all. She can reach a low F2 and hit an unbelievable G7, a note that dolphins would envy, and that only some dogs can hear.
Don't believe us? Have a listen to this: