Could singing in a virtual choir be the answer for boosting your mental health?
29 May 2019, 18:12 | Updated: 29 May 2019, 21:37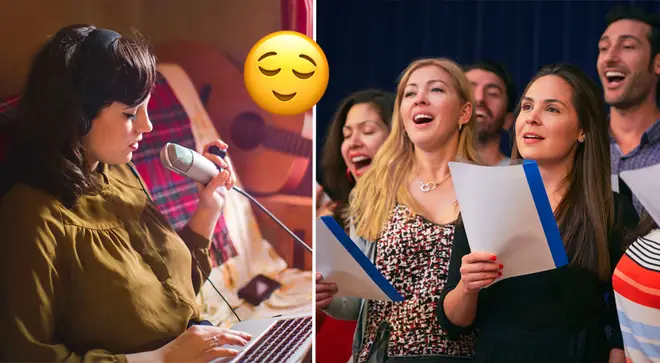 Improving mental wellbeing has never been more important – and now a pioneering new study has proven that singing online could be just the tonic for coping with our daily stresses.
This week, new research has revealed that singing in a virtual choir can have a positive impact on your mental health.
The research comes following a scientific study conducted by University College London (UCL), which shows that singing online can provide the same mental and emotional health benefits as singing in a live choir.
Results prove that participants not only felt happier and experienced a noticeable boost in their self-esteem, but also reduced feelings of social isolation.
Led by UCL Senior Research Fellow Dr. Daisy Fancourt and in partnership with Grammy Award-winning composer and conductor Eric Whitacre, the study used an online questionnaire to gather data from 2,316 choral singers.
Read more: How does Eric Whitacre write beautiful music? He says it all comes down to the 'Golden Brick'
Members of Whitacre's Virtual Choir 5.0 – a phenomenon connecting thousands of singers all over the world – as well as several 'live' choirs took part in the pioneering project – and now they're keen to share their knowledge to help promote better mental health.
The study also confirms the beliefs of many ancient philosophers such as Aristotle, who were convinced that shared creative experiences cultivated feelings of happiness and social equality.
Dr. Fancourt commented: "It was really exciting to conduct one of the first studies looking from a research perspective at how new technology affects our creative experiences.
"This new research is exciting as it suggests that for people who are unable to sing in live choirs, either due to living in a rural area, in a community without a choir or due to illness, singing in virtual choirs could provide similar emotional and social benefits."
Eric Whitacre added: "This amazing study shows how the virtual experience brings people together and makes them feel connected.
"The virtual choir experience is open to people in ways that go beyond what most traditional choirs can offer. We've found that communities have developed because of these virtual choirs, with really close bonds forming between people who oftentimes have never met in person."
Find out more about the study in the peer-reviewed paper, 'Present in Body or Just in Mind: Differences in Social Presence and Emotion Regulation in Live vs. Virtual Singing Experiences'.