10 operas you need in your life if you're a die-hard musicals fan
26 February 2018, 16:53 | Updated: 26 February 2018, 16:54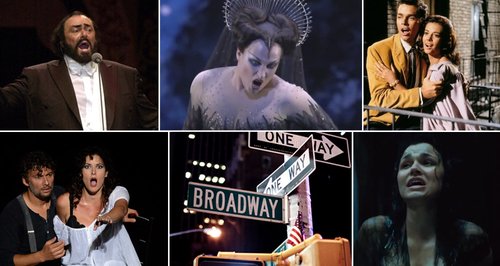 You love 'Defying Gravity' (rightly so), but we think you'd also really like to sing along to 'Der Hölle Rache'. For every die-hard musicals fan out there, here in no particular order are our top ten operas which all have great music, entertaining storylines and absolutely glorious arias.
1. La bohème
If you've ever seen Jonathan Larson's revolutionary rock musical RENT, Puccini's storyline will sound rather familiar.
La bohème tells the tale of a group of poor, struggling artists in Paris, focusing on the love story between Rodolfo, the poor bohemian, and Mimi, the dying maid. It's full of super-emotional arias, like 'Che gelida manina' (What a frozen little hand), which is translated into the musical as the slightly sexier ballad 'Light My Candle'.
Here's the aria, sung by the inimitable Luciano Pavarotti:
Now, listen to 'La vie bohème' in a whole new light…
2. Carmen
The title character in Bizet's salacious opera is a seductress, an outrageous flirt who drives men wild. A nineteenth-century version of Chicago's Velma Kelly, if you will.
From the barnstorming orchestral Overture and the macho Toreador's Song to the sultry 'Habanera' and 'Seguidilla', Bizet's opera is like a collection of Romantic era musical theatre tunes from start to finish.
Here's 'Habanera', sung by the undisputed sex siren of opera, Maria Callas.
3. The Magic Flute
This opera by Mozart is in the form of a Singspiel, a popular form that includes both singing and spoken dialogue – just like a musical would (excluding those weird exceptions, like Les Misérables).
But the main thing you need to know about this opera is that it contains one of the most terrifying arias ever to grace the opera world. Its German title is 'Der Hölle Rache', but it's more commonly known as the Queen of the Night aria.
Mozart's aria reaches the lofty heights of an F6 above top C, and it says things like 'The vengeance of Hell boils in my heart, death and despair flame about me!'. Much like Andrew Lloyd Webber's Phantom, you don't want to mess with Mozart's Queen.
Here it is, sung by the exceptionally talented Diana Damrau:
4. The Barber of Seville
If you're used to the jaunty heel-tapping storylines associated with musical theatre and are concerned by the rumour that literally everyone dies in opera, look no further.
Rossini's opera is a comic tale of love and trickery between the young, desirable Rossina, her creepy uncle Dr Bartolo, and her future lover Almaviva. Oh, and there's Figaro the barber, who sings one of the jolliest operatic tunes ever:
5. The Marriage of Figaro
And there's a follow-up story! Just in case you were confused about why the song that says 'Figaro' a billion times in it isn't actually from The Marriage of Figaro (it would seem logical), there is an explanation. Le Mariage de Figaro was originally a play, written in 1778 by Pierre Beaumarchais, and it's the second in the 'Figaro' trilogy, preceded by The Barber of Seville.
Anyway, background story aside, the overture to this opera is absolutely 10/10. If you've heard or seen the beginning of the musical Sweet Charity, you'll know that a great overture can absolutely make a show.
Here it is, performed by the Wiener Symphoniker:
6. La Traviata
You might not know the name, but you'll likely recognise the tune of the jaunty 'Libiamo ne' lieti calici', otherwise known as the 'Drinking Song'.
Giuseppe Verdi's tragic tale of Violetta, the Parisian courtesan, is filled with passion, drama and wonderful melodies – and if you love the beautiful tunes yet dark undercurrents of Les Misérables, this is the opera for you.
Renee Fleming does an awesome version of Violetta's aria, 'Sempre Libera':
7. Tosca
Is there a darker, more passionate opera than Puccini's brilliant Tosca? Featuring one of the composer's greatest arias 'E lucevan le stelle', the story is one of death, betrayal and booming chords (not all operas are cheery, you may have gathered).
It's a storyline that dates back to Shakespeare, but if you dig the whole dying-for-each-other thing that Bernstein recycled in West Side Story, you'll love the passion and tragedy of Tosca.
Read more: How did Bernstein's 'West Side Story' bridge the gap between musical theatre and opera?
Plácido Domingo does 'E lucevan le stelle' with sad eyes, tortured head-in-hands poses and a wonderfully loose Mr Darcy-esque white shirt. Goosebump levels: off the scale.
8. Madama Butterfly
If you're a Miss Saigon superfan, the storyline of this next storming Puccini opera will be ringing a few bells of familiarity.
Madama Butterfly tells the story of 15-year-old Butterfly, a young Japanese girl who falls in love with Pinkerton, an American officer in Nagasaki – only for him to later abandon her and return with a wife. Nice work, Pinkerton.
Expect all the death, betrayal and seemingly innocent young love of Schönberg's Miss Saigon, but with a bit more nastiness and some cracking tunes. Listen out for the 'Stars and Stripes' music, the 'Humming Chorus' and 'One Fine Day'.
Here's the wonderful Ying Huang, singing a heart-wrenching version of the latter:
9. Rigoletto
Verdi's opera has a fun name, and its most famous aria 'La donna è mobile' is in a delightfully jolly major key.
But underneath, it's all about the Taken-esque kidnapping of a man's daughter, and her suicide over a man who thinks that all women are fickle and small-minded (the unfortunate literal translation of 'La donna è mobile').

The aria is a big hit for tenors and Juan Diego Florez gives it a particularly great rendition.
10. L'elisir d'amore
Here's a slightly more light-hearted one to finish. Donizetti's opera is a perfect first introduction to opera: it's fun, silly and it contains the lovely, romantic aria 'Una furtiva lagrima', which Nemorino sings when he realises his love potion on Adina actually worked, and now she loves him too.
Think Ewan McGregor singing 'Come What May' in Moulin Rouge, when it finally becomes obvious that Nicole Kidman's character is equally as crazy-in-love with him as he is with her.
It's a beautiful moment, and you can't help but get emotionally caught up in Pavarotti's belting version:
Feeling ready to be an opera superfan yet? Here's a glorious list of the world's greatest opera arias!