We asked a top opera singer to explain coloratura (aka fancy vocal fireworks) and how on earth you do it
14 June 2016, 17:44 | Updated: 14 June 2016, 17:49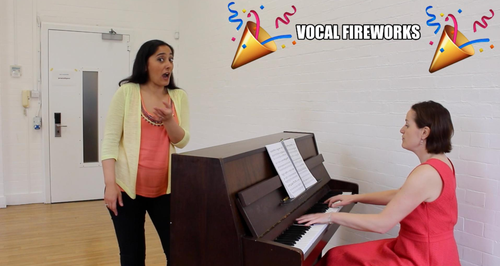 The brilliant mezzo soprano Ezgi Kutlu is starring in Rossini's coloratura-fest 'L'Italiana in Algeri' this summer at Garsington. So we asked her to talk us through one of the flashiest and fiendishly difficult operatic techniques. **warms up vocal cords**
First things first, what is coloratura?
The word literally means colouring, but it's come to mean a particular style of singing that includes lots of fast high notes, trills, ornaments and general flashy shenanigans.
Here's Ezgi singing an aria from Rossini's L'Italiana in Algeri, with pianist Susanna Stranders – and it is coloratura to the max:
And here's Ezgi's definition of coloratura:
What does coloratura sound like?
Ezgi kindly sang a couple of examples for us. In this passage her character, Isabella, is feeling distressed. So Rossini puts an ornament in her melody line that sounds a bit like a sob:
Here, though, Isabella is much cheerier. In an aria about how to make men happy, Rossini includes what can only be described as a vocal wink. You'll see what we mean:
How do singers know which ornaments to add to the music where?
Ezgi explains how she decides which ornaments to use where to embellish the melody line, and where Rossini actually does the work for the singer.
Do you have any tips for someone completely new to coloratura?
Here's Ezgi's advice for a singer tackling this fiddly music for this first time:
You can hear Ezgi singing the role of Isabella in Rossini's L'Italiana in Algeri at Garsington Opera this summer until 10th July