Matteo Bocelli sings 'Can You Feel The Love Tonight' from The Lion King with symphony orchestra
29 May 2020, 13:07 | Updated: 29 May 2020, 16:23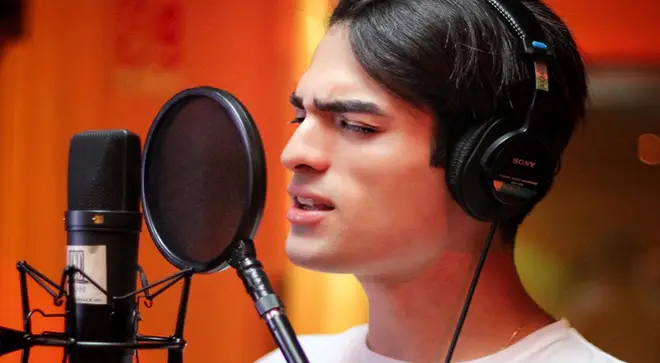 Matteo Bocelli's beautiful cover of 'Can You Feel The Love Tonight' features the Royal Philharmonic Orchestra, and combines two of your great loves – Disney and classical music.
Italian singer, Matteo Bocelli – the son of world-renowned tenor, Andrea Bocelli – has released a new single of The Lion King's best ballad, 'Can You Feel The Love Tonight'.
Bocelli has teamed up with a full orchestra – the Royal Philharmonic Orchestra – for the beautifully-scored version of the song.
Speaking about his new release, the singer has said: "I am beyond excited to join this project with Disney. The Lion King is one of the most cherished movies from my childhood and to sing the lead song is truly an honour for me.
"Elton John is one of my musical heroes for both his songwriting skills and his unique style. I hope to take some of that influence into the music I'm currently working on which I hope to share with you soon."
Read more: What does the phrase 'Hakuna matata' in The Lion King actually mean? >
Read more: Andrea Bocelli and son Matteo perform stunning 'Fall On Me' duet from home >
Bocelli's take on the Elton John hit is part of an upcoming release pairing Disney songs with classical music, Disney Goes Classical, coming out later this year.
It's a collaboration between Disney and Decca Records, and will include 'classical covers' of some of Disney's best-loved movie themes – from Alan Menken's The Little Mermaid's 'Part of Your World' and Frozen's 'Let It Go', as well as popular tunes from Aladdin, The Jungle Book, Beauty and the Beast and Hercules.
Recorded at London's famous Abbey Road Studios, the new album features several special guests – including Grammy-winning American soprano, Renée Fleming, who sings a beautiful rendition of Pinocchio's 'When You Wish Upon A Star', and Japanese classical guitarist, Kaori Muraji.
Earlier this year, we heard 22-year-old Matteo perform a heartwarming duet of 'Fall on Me' (played during the closing credits of 2018 Disney movie, The Nutcracker and The Four Realms) with his father, Andrea, live from their living room in Italy.
The musical duo had called in to The Late Late Show Starring James Corden (watch below) to raise awareness of the Andrea Bocelli Foundation – a humanitarian charity providing support to communities experiencing poverty, illiteracy and distress due to illness and social exclusion.
Read more: Matteo Bocelli: Everything you need to know about Andrea Bocelli's son >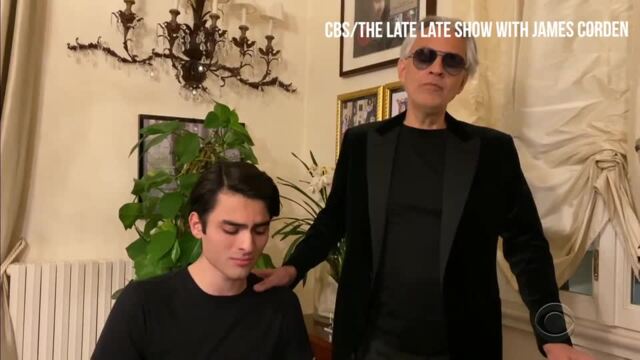 Andrea & Matteo Bocelli- Fall On Me
Penned by Elton John and Tim Rice, the 1994 version of 'Can You Feel The Love Tonight' won the Academy Award for Best Original Song and was featured in The Lion King' 2019 live-action remake.
Listen to Matteo Bocelli's classical cover of 'Can You Feel The Love Tonight' on Spotify: