Matteo Bocelli: Everything you need to know about Andrea Bocelli's son
20 September 2023, 17:05 | Updated: 20 September 2023, 17:08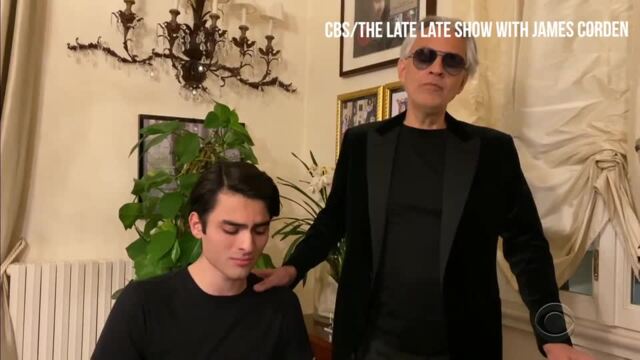 Andrea & Matteo Bocelli- Fall On Me
Andrea Bocelli's son Matteo is a rising star in the classical crossover world, who features on his father's hit song 'Fall On Me'. Here is everything you need to know about Matteo Bocelli.
Andrea Bocelli's second son, Matteo, is one of the fastest rising figures in the classical crossover genre.
From his first appearance on the single 'Fall On Me' with his father in 2018, to singing for the Duke and Duchess of Sussex at the Royal Variety Performance in December that year, Matteo Bocelli's career has been going from strength to strength.
The 25-year-old singer also released a Christmas album in 2022 with his father and younger sister, Virginia Bocelli.
Now, the Italian rising star is ready to make a name for himself, from his movie debut in 2022 alongside Idris Elba and Tilda Swinton to a self-titled debut solo album in 2023.
Here's everything you need to know about the singer.
Read more: Andrea Bocelli's children – who are Matteo, Amos and Virginia Bocelli and what do they do?
How old is Matteo Bocelli?

Matteo Bocelli was born on 8 October 1997 to father Andrea and mother Enrica Cenzatti, Andrea Bocelli's first wife before he married Veronica Berti.

He turns 26 years old in October 2023.

Matteo Bocelli performing with his father Andrea, at the O2 Arena in September 2022.

Picture: Alamy

Where does Matteo Bocelli live?

Matteo Bocelli was born and grew up in Forte dei Marmi, a seaside town in the mountainous Italian region of Tuscany. The Bocelli family also have a home in Miami, Florida.

Read more: Where does Andrea Bocelli live? Behind the scenes in his Italian family home

Andrea Bocelli's family home in Tuscany, Italy.

Picture: Classic FM

Is Matteo Bocelli married?

Matteo Bocelli is very private when it comes to his personal life, and has never publicly spoken about his partners or relationships.

As far as we know, he is currently unmarried.

What films has Matteo Bocelli appeared in?

In 2018, Matteo Bocelli's joint single with his father, Andrea, 'Fall On Me', appeared in the end credits of the Disney film The Nutcracker and The Four Realms.

Then, in 2022 Matteo made his silver screen debut in Three Thousand Years of Longing, starring alongside Idris Elba and Tilda Swinton. In addition to his role as Mustapha, an Ottoman prince, he also released a single alongside the movie with Dutch composer Tom Holkenborg, a.k.a. Junkie XL, titled 'Cautionary Tale'.

Read more: Andrea Bocelli's son, Matteo Bocelli, to make movie debut alongside actor Idris Elba

Lang Lang from The Nutcracker and the Four Realms

Is Matteo Bocelli releasing new music or touring in 2023?

In June 2023, Matteo Bocelli announced the release of his debut album, Matteo, to be released on September 22 of that year. Matteo describes it as a pop album, although says he still leans heavily on his classically trained background.

Matteo also embarks on a world tour in 2023 in promotion of his new music, beginning in Berlin on 30 September and travelling through Europe and the US before his final tour date in Dubai on 21 December.