Sir Elton John: 'I never would've written these songs without my classical training'
26 June 2023, 11:27 | Updated: 26 June 2023, 12:22
Elton John on Classical Music, Playing at Diana's Funeral and His Songwriting Process | Classic FM
Classic FM's Tim Lihoreau met Sir Elton John at his old alma mater to talk music education, his 'mystical' song-writing process and how the Royal Academy of Music has changed since 1958.
"It was so intimidating then," Sir Elton told Classic FM's Tim Lihoreau, as they met in a room behind reception at London's Royal Academy of Music. "It smelt of fear."
The great pianist and singer, who in June 2023 has just said goodbye with his last ever UK concert at Glastonbury, had just hosted a Q&A with students of the Academy, which he attended as a Junior Exhibitioner from the tender age of 11.
But by 16, the young Reggie Dwight had decided to quit his classical roots to pursue a career in rock 'n roll. And, rather hearteningly, he still puts his enormous success down to those early years spent playing scales in a practice room.
"In those days, the Academy meant classical music and nothing else – certainly no rock 'n roll. That was the devil's music. But without my training, I never would've been able to write the songs I've written.
"I'm so grateful for my classical training. I played Chopin and Bach, and Mozart and Debussy.
"I was never good enough to be part of the Academy orchestra... but to be part of the choir was incredibly fulfilling," he added.
"Just the noise you make, and the camaraderie... it is the most life-affirming experience, singing in a choir."
Read more: Amazing high school choir sings spiritual 'Down to the River to Pray' from hotel balconies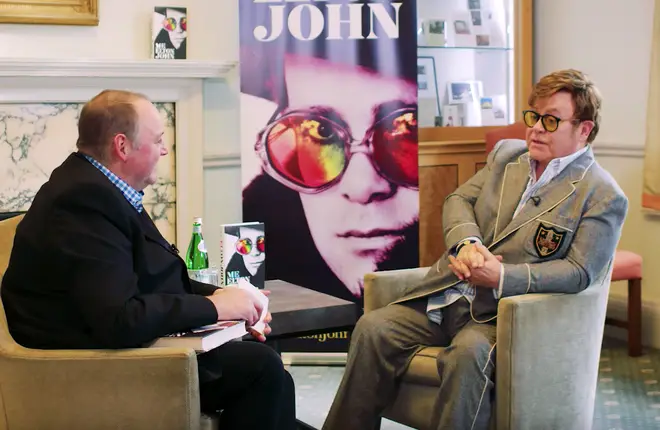 Eight Royal Academy students a year are on the Elton John Scholarship – a fund reserved for exceptional young musicians who would otherwise be unable to afford the fees.
During the Q&A, four of those students stood up and spoke about what they had achieved thanks to their star sponsor. This begged the question: what does Elton make of the dwindling presence of music in today's schools?
Read more: 'Music needs to stay on the school curriculum', says RPO head
"Music was one of the few O Levels I managed to get," Sir Elton tells Tim.
"A lot of schools [now] have taken music out of the curriculum and I find that really appalling, because music is so inspiring and for kids that have the ability or want to play music, there's no outlet for this in schools anymore. It's tragic."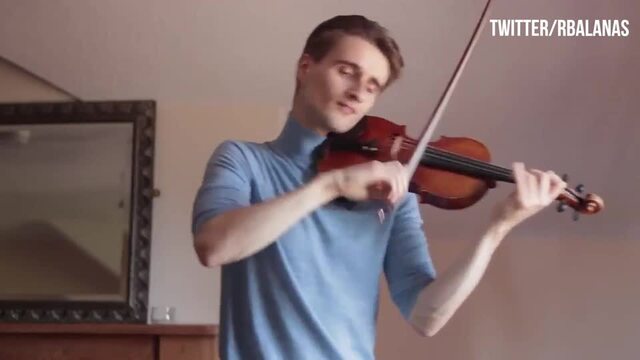 Violinist plays Elton John's 'I'm still standing'
Sir Elton has famously enjoyed a long-lasting relationship with the keyboard. The story goes that as a teenager at the Royal Academy of Music, he played a note-perfect rendition of a four-page Handel composition, completely by ear (for any Rocketman fans out there, the moment is replicated in the movie but replaced with Mozart's better-known Rondo alla turca).
Read more: Elton John's 'Rocket Man' under the microscope – why is it so good?
But that isn't the only great musical relationship Elton has enjoyed throughout his professional life. His arrangement with songwriter Bernie Taupin is, Tim suggests, a somewhat mystical one.
"It's very mystical. There's no rhyme or reason. It exists, I don't question it," Elton replies. "It sounds very cliché but it's like a gift from God.
"I look at his lyrics, as I'm looking at them a film appears, I finish the lyrics, I put my hands on the keys and then I go from there. Usually, the first four or five chords I play determine what the song's going to do. And I have no idea where it comes from."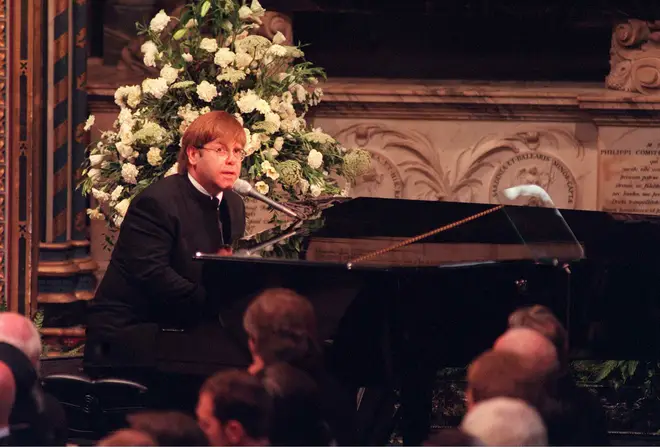 After around 60 years of playing for other people, it would be easy to assume that Sir Elton got over any feelings of stage fright decades ago.
But there was one instance of it that he still remembers very clearly – and it was when he famously played 'Candle in the Wind' at the funeral of Diana, the Princess of Wales, in 1997.
"It was the only time I really got stage fright," he tells Tim.
"It was an enormous responsibility, and I'd been singing that song for so many years as 'Goodbye Norma Jean', and I had to call on all my professionalism of all my years of playing in clubs and being Elton John to pull that off.
"And I was doing it for all the people outside, all around the world, so I had a teleprompter. I just didn't want to sing 'Goodbye Norma Jean' – I would've been garrotted on the spot. And I pulled it off because I had to. You have to man up in situations like that."