Six times Disney did classical music
4 June 2014, 12:43 | Updated: 5 March 2021, 12:00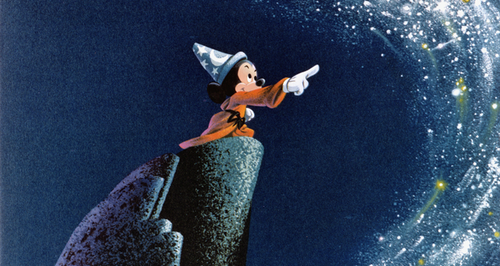 Classical music plays an important role in animated films and, as you'd expect, Walt Disney was always the pioneer.
1. Fantasia (1940)
'Fantasia will amaze ya' went the publicity when Disney released his animated masterpiece, and it has continued to amaze for more than 70 years. Disney's goal was "picturing this music — not the music fitting our story" and he hoped the film would bring classical music to people that, including himself, had "walked out on this kind of stuff."
The visualisation of certain of the pieces is controversial; hearing Stravinsky's The Rite of Spring, he said: "This is marvellous! It would be perfect for prehistoric animals." But Mickey Mouse as The Sorceror's Apprentice and the unforgettable hippo-ostrich-crocodile ballet to Ponchielli's Dance of the Hours were a perfect fit.
2. The Sorcerer's Apprentice (1940)
Mickey Mouse's finest ever movie moment was his role as The Sorcerer's Apprentice in Fantasia. Disney acquired the rights to the music in 1937 and planned to release a stand-alone short. However, at the suggestion of the conductor Leopold Stokowski, the idea eventually expanded into the full-length masterpiece.
3. The Band Concert (1935)
Mickey's first outing in colour tells the story of a ropey concert band struggling to get through a performance of the overture to William Tell by Rossini. There are some major distractions to contend with including a tornado, a scrap with a bumble bee, and Donald Duck's street vendor playing 'Turkey in the Straw' on top of it all.
4. Peter and the Wolf (1946)
Disney's version of this Prokofiev children's favourite first appeared as a segment in the anthology feature, Make Mine Music. It was later reissued as a stand-alone short in 1955. In this video from one of Walt's own TV shows, he recalls how Prokofiev himself visited Disney studios. An actor plays the composer seated at a piano, knocking out the themes from Peter and the Wolf.
5. The Whale who Wanted to Sing at the Met (1946)
Another segment of Make Mine Music, this touching tale was later released as a supporting short for a re-issue of Fantasia. Willie is a whale that really can sing opera. We see a montage of how he would perform, given half a chance, at the Metropolitan Opera House – including Pagliacci, Tristan and Isolde, and Mephistopheles. It has a bit of a sad ending but rest assured that Willie is singing on in whale heaven.
6. Sleeping Beauty (1959)
Disney took the 'Garland Waltz' from Tchaikovsky's Sleeping Beauty ballet and gave it schmalzy lyrics. In the film it's sung by voice artists Mary Costa and Bill Shirley. This year the song has been covered by American singer-songwriter Lana Del Rey for Disney's dark reimagining of 'Sleeping Beauty', 'Maleficent.'