'Art is not just revenue for the soul, it's revenue for the pocket book,' says top conductor
27 January 2017, 17:32 | Updated: 27 January 2017, 17:42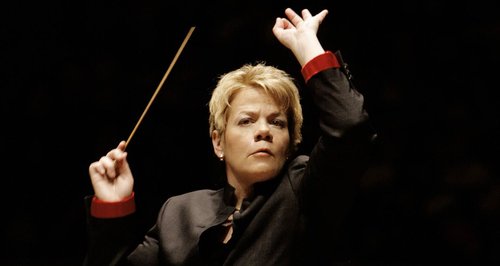 Conductor Marin Alsop has told Classic FM that the arts world needs to 'promote the monetary value of the arts in our society'.
Speaking exclusively to Charlotte Green, Marin said: "What we need to do a better job of is promoting the value, the fiscal value of the arts in our society.
"People like to know the numbers, they want to know what the bottom line is but art is not only revenue for the soul, it's revenue for the pocket book. And it really does generate a lot of work."
Marin Alsop, who is the music director of the Baltimore and Säo Paulo Symphony Orchestras, was talking as the Southbank Centre's new season was unveiled, during which she'll conduct the Orchestra of the Age of Enlightenment and the National Youth Orchestra.
She told Charlotte: "I think it's very important that we teach our children that money is a tool and money is a means to improve the world we live in and if you believe in art you have to support art."
You can hear Marin's full interview with Charlotte Green this Sunday from 3pm.