These are the 7 most influential musicians from the last 25 years
23 August 2017, 17:33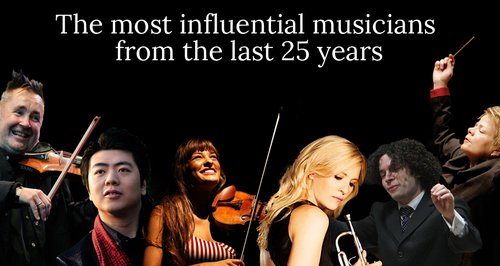 We've handpicked the performers who we think have changed the shape of the music world throughout Classic FM's lifetime (that's the last 25 years).
Here's are our Magnificent Seven - all of whom not only excel as players, singers or conductors of classical music, they've also made a significant impact on the wider musical world...
Alison Balsom
Let's start with trumpeter Alison Balsom. She's a three-time winner at the Classic Brits, the 2013 Gramophone Magazine Artist of the Year, a passionate advocate of the importance of music education and an active supporter of several musical charities. Above all, though, she's an absolutely fabulous artist, who's totally seen off that old idea that brass playing was only for boys!
Thanks largely to Alison's shining example, more and more girls are taking up the trumpet (hooray)!
Nicola Benedetti
Nicola Benedetti is one of the most sought-after violinists of her generation. She's fiercely committed to music education, and when she was only 23 she became Sistema Scotland's official musical "big sister" – whenever her schedule permits, she visits schools and youth orchestras to encourage young people to take up music – and work hard at it.
Marin Alsop
Mahler's first symphony is known as The Titan, because it needs a giant orchestra of more than 100 players. And what a giant orchestra in turn needs is a great conductor, not just to keep everything together but also to captivate listeners.
Step onto the podium Marin Alsop, Principal Conductor of Classic FM's Orchestra in the South of England, the Bournemouth Symphony Orchestra for 6 years and currently Music Director of the Baltimore Symphony Orchestra for the last 10 years. Marin's made an international name as a conductor – and paved the way for many more women to become conductors.
Mind you, she's seen her fair share of sexist attitudes – and was even told she shouldn't attempt Mahler!
She tells one story about when she stepped up to conduct one particular orchestra for the first time. A (male) brass player said: "Oh man, it's a girl." At the end of rehearsal he said to her "You're really good, I never really noticed you were a girl."
Let's give Marin the last word on women conductors: "There's no logical reason to stop women from conducting. The baton weighs about an ounce. Good musicianship is all that's required."
Joyce DiDonato
The charismatic mezzo-soprano Joyce DiDonato is known for being most generous artists of today: many young conservatoire students are eternally grateful for her kindness and wisdom, whether it's in a masterclass or via her blog or Twitter.
She's also passionate about taking classical music outside the concert hall and has performed with refugee children and Greece and at the notorious Sing Sing prison in the US.
Nigel Kennedy
From four wonderful women, on to three of the most influential chaps from the past quarter century, starting with a violinist who's world-famous for his best-selling recording(s) of Vivaldi's Four Seasons.
Over the years, Kennedy's become as famous for the way he's reinvented the classical music dress code, and his loyalty to Aston Villa Football Club (he even wore the famous shirt for us in the video above), as he is for his playing – but he's a fascinating and compelling musician.
Lang Lang
Don't worry - we've not forgotten about Lang Lang! You can't exactly miss him – he's got half a million followers on Facebook, and he's inspired more than 40 million – yes, you read that correctly – 40 million Chinese children to learn the piano.
That movement has even been called 'the Lang Lang effect' and Time Magazine included Lang Lang on its annual list of the 100 Most Influential People in the World.
What's even better about Lang Lang? He played Happy Birthday for us on a toy piano!
Gustavo Dudamel
Last of our magnificent seven influential musicians is the Venezuelan conductor Gustavo Dudamel, known throughout the classical world as "the Dude".
He became an overnight star in 2004 when he won the inaugural Gustav Mahler conducting competition, and he used his high profile to help bring international recognition to Venezuela's pioneering music education programme, El Sistema.
The embodiment of El Sistema is the Simon Bolivar Symphony Orchestra, renamed very slightly from the original Youth Orchestra when the average age of its players rose too high! Their album Fiesta is a real favourite with the team here at Classic FM and people all over the world.
Dudamel's now Music and Artistic Director of Classic FM's Orchestra in America, the Los Angeles Philharmonic, but he still works with his first, Venezuelan orchestra. And whether he's in Caracas or LA, he's busy with community outreach programmes, showing the world that classical music is for everyone.