Eight of the world's 100 top conductors are now women, compared to just one in 2013
7 January 2020, 11:30 | Updated: 7 January 2020, 12:31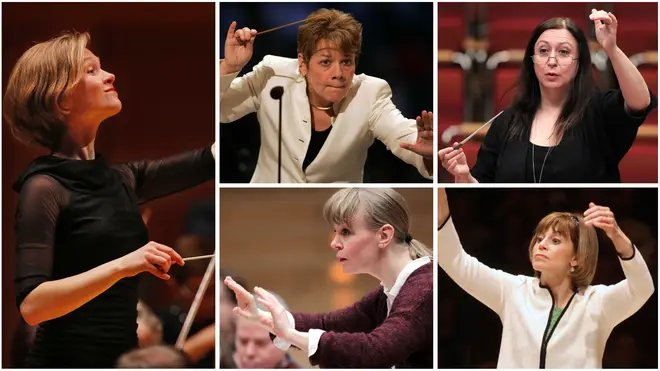 New research into classical music in 2019 shows progress for female composers and conductors, as more women take up space on the concert stage than ever before.
Female conductors, including Simone Young and CBSO's Mirga Gražinytė-Tyla, now make up eight per cent of the world's top 100 maestros.
The figures, which come from classical music website Bachtrack, reveal that in 2013 there was just one woman – the great American maestro, Marin Alsop – in the top 100.
There's also progress for female composers, as the study finds 24 of the top 100 contemporary composers are now women – that's double the figure of 2017.
London-born Cecilia McDowall, known for her great choral works including Now May We Singen and O Oriens, was 2019's most performed female contemporary composer – followed by Judith Weir, Anna Meredith and Jennifer Higdon.
"There is much interest in choral music nowadays which is so encouraging," McDowall says. "It seems in good health."
Read more: Discover composer Anna Meredith's soundtrack for 'Living With Yourself' >
Elsewhere in the study, Latvian maestro Andris Nelsons was found to be last year's busiest performer, conducting a total of 132 concert and opera performances (that's more than one every three days).
As the classical music world prepares to celebrate the 250th anniversary of Beethoven's birth, the research revealed over 13 per cent of all classical concerts featured a work by Beethoven.
Beethoven was the top concert composer – closely followed by Mozart and J.S. Bach – while his Symphony No. 3 'Eroica' was the year's most performed concert piece.
Mozart was also popular in the world of opera – he was the third most performed composer, beaten only by Verdi and Puccini.
Bachtrack's research also reveals a surge in appreciation for Clara Schumann's work. In 2019, a year that celebrated the 200th anniversary of the great 19th-century pianist and composer's birth, Schumann was the 44th most performed composer – after being ranked at No. 94 the year before.