6 totally badass women of classical music
13 February 2018, 13:04 | Updated: 13 February 2018, 16:07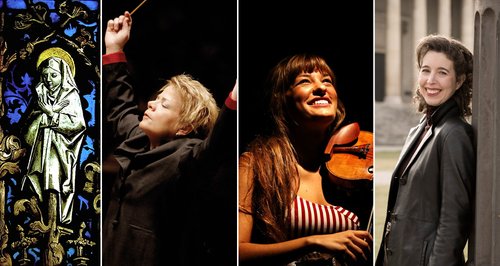 Today, as we mark the unforgettable Galentine's Day, we asked the women of Classic FM to each pick one woman in the world of classical music who has inspired them. Here's what they said…
Anne-Marie Minhall on pianist Angela Hewitt
Our Classic FM Requests presenter is inspired by the brilliant pianist Angela Hewitt.
Angela is an extraordinary pianist, says Anne-Marie. Her performances and recordings are second to none, and her interpretation of music by some of our favourite composers is a sight and a sound to behold.
Catherine Bott on alto Clara Butt
Catherine Bott, who presents the Full Works Concert on Thursdays and Fridays, has chosen a fellow singer as her inspirational woman. Dame Clara Butt was a phenomenal woman, with a remarkably refined and beautiful voice – a rich contralto.
Conductor Sir Thomas Beecham was once working with her in Dover, and said she was loud enough to be heard in Calais!
Margherita Taylor on…
Well, lots of inspirational women. Margherita, who presents Smooth Classics, couldn't pick just one – so she's come up with a list, including Marin Alsop, Alison Balsom, Mirga Gražinytė-Tyla and Nicola Benedetti.
Elizabeth Davis on Hildegard of Bingen
That's me! I work on the digital side of Classic FM (creating quizzes, filming classical music superstars and coming up with hilarious Schoenberg puns). And I want to shine a spotlight on the divine music by Hildegard of Bingen, who lived from 1098 to 1179.
Katie Breathwick on Judith Bingham and Roxanna Panufnik
Katie's is the voice with you from 1-4am Friday, Saturday and Sunday nights. And for her inspirational woman, she's chosen… well, two, actually: the groundbreaking composers Judith Bingham and Roxanna Panufnik. Over to you, Katie…
Jane Jones on Clara Schumann
Our Full Works Concert presenter – and the voice of More Music Breakfast on Saturdays and Sundays – is inspired by the great virtuoso pianist and composer, Clara Schumann. Isn't it time we heard more of her music in the concert hall, asks Jane…
If you'd like to hear more about the lives and music of these extraordinary women, here are 21 of the greatest women composers, as chosen by Classic FM.